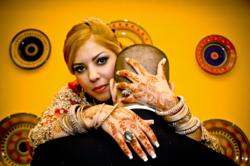 Enter to Win today! Three selected couples will be announced at facebook.com/yourlifeinframes
Connecticut & Massachusetts (PRWEB) June 25, 2012
Everybody knows weddings can be expensive and the expenses alone can add to the stress of planning. Renowned wedding photography studio LaViera Wedding Photography is giving away free wedding photography services to three lucky Indian wedding couples!
LaViera Wedding Photography is proud to announce that they are selecting three South Asian weddings to receive free professional photography services on their wedding day and to be LaViera's featured Wedding of the Year.
In this Indian Wedding Giveaway and Contest, LaViera will provide the lucky winner with top of the line wedding photography service as they have been providing to brides and grooms for over a decade.
The lucky bride and groom will receive top of the line wedding photography services and will be served with stunning photos to remember their special day. In addition, they will be covered by two wedding photographers on the day of their wedding.
Who can enter? South Asian couples planning to be married before August 2013. Contest winners should be in the Connecticut or Western Massachusetts area, however, couples from outside of the area may participate with the following terms: A travel fee will be charged for airfare, room, and rental car.
When will they announce the winner and how? Winners will be posted on or before December 2012 via Facebook. Become their fan today to stay posted on the latest giveaway updates at Facebook.com/YourLifeinframes.
Everybody loves to win, here's a chance for you to win big and receive top of the line Photography Services on your wedding day. Sign up to be a part of this Indian Wedding Giveaway and Contest and win! Additional restrictions apply, see store for details.
Enter to win at:http:// http://www.laviera.com/free-ct-indian-wedding
Follow us to find to be informed or the contest winners at: facebook.com/yourlifeinframes