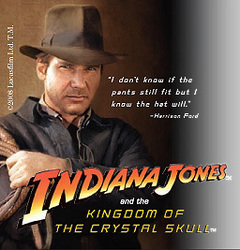 It is not an overstatement to say that Harrison Ford's fedora entirely revitalized our industry
San Diego, California (PRWEB) May 24, 2008
The Village Hat Shop opened its doors on May 2, 1980 so they have been around the hat business during the entire Indiana Jones phenomena. "It is not an overstatement to say that Harrison Ford's fedora entirely revitalized our industry," says Fred Belinsky owner and founder of the 4-store California retail chain as well as http://www.VillageHatShop.com . "Not only is the Indiana Jones hat the best selling headwear both online and in our stores, but men's fedoras in general -- a very important segment of the hat business today -- can trace its resurgence to the first movie in 1981."
Belinsky describes how the western business carried the industry nationally for a while (those old enough will remember the movie Urban Cowboy, or the TV show Dallas, or the western-themed club scene in the late 1970s) but one day in the early 1980s, it abruptly ended. "We were in a hole again. After 20 years of decline -- since President Kennedy decided that he liked his hair better than his hat -- the slight blip upwards that came from cowboy hats stopped on a dime. If you think that the fictional Indiana Jones saves the day on film, it ain't nothin' compared to what he's done for real life hat merchants."
As sellers of officially licensed Indiana Jones merchandise, the head staff of The Village Hat Shop was invited to a Sneak Preview of the new movie Indiana Jones and the Kingdom of the Crystal Skull. Albeit viewed through the lens of hat-centric movie goers, three reviews of the new film appear on the HAT BLOG: Everything Hats.
Indy's hat has become iconic. The movie starts and ends with the hat, which makes hat merchants giddy. Bruce Zales, designer of Jaxon Hats a hip men's line: "We've been anticipating this movie for many months. By and large, popular culture has been ambivalent about hats for almost a half-century. Every industry should get its day in sun. It's our turn." No word yet from the whip industry.
# # #