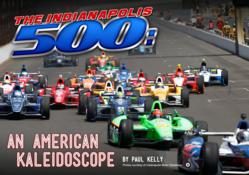 The Indy 500 transcends sports and remains a singular American experience for fans for one reason: It's been around for more than a century - yet it still exudes hip vitality.
Easton, PA (PRWEB) May 23, 2013
The all-new Cigar Advisor is an online cigar magazine that brings a fresh, irreverent, and down-to-earth perspective on all things cigars to thousands of smokers. In addition to educational cigar content and behind-the-scenes cigar industry articles from some of the business's top names, Cigar Advisor delivers an array of content about a variety of topics of interest to people who enjoy the cigar lifestyle. The magazine also features cigar reviews and ratings submitted by real smokers. Cigar Advisor has just published two new features: a primer on Macanudo's tobacco fermenting process, and a photo essay in time for this weekend's Indianapolis 500.
For many years, Macanudo has been one of the best-selling cigars in the United States. Contributor Tom Ufer explains that, because of its smooth and mild flavor profile, Macanudo makes for an easy recommendation to someone new to cigar smoking, or to someone who only enjoys a cigar occasionally. Part of the reason for this consistently smooth profile is a special fermentation process Macanudo has dubbed the "Winter Sweat."
"The entire fermentation process takes about 30 months," reports Ufer. He also notes that for some select wrapper leaves, Macanudo puts them through a second round of the Winter Sweat - giving them even deeper flavor. As he details the entire two year-plus process in his article, he also notes its exclusivity: "The Winter Sweat process is exclusive to Macanudo," Tom explains, which he feels is due to time, labor and cost; but its importance to the blend is shown in the resulting flavor content and aroma he experienced from the cigars.
Writer Paul Kelly contributes the narrative to a photo essay on the Indianapolis 500 – and juxtaposes the history and events at the annual race via a visual tour of Indianapolis Motor Speedway. His themes are power and partying, history and heroes, and speed and sound.
Presenting current-day facts and historical notes from the Speedway's archives, Paul notes the visual experience of race day as "an ever-turning view of the kaleidoscope known as America." He also showcases those attending the event, remarking how the Indy 500 "transcends sport and remains a singular American experience for fans for one reason: It's been around for more than a century, yet it still exudes hip vitality. Few events fuse a bedrock respect of decades-old tradition and an exciting, fresh sense of possibility every year like 'The Greatest Spectacle in Racing.'"
People interested in reading these new articles or signing up to receive notifications about new articles should visit CigarAdvisor.com.
About Cigar Advisor Magazine
Cigar Advisor magazine is a digital publication created for real cigar enthusiasts who love tobacco and live the lifestyle. Cigar smokers are passionate about almost everything they do - whether it's the drinks they savor, the food they devour, the cars and motorcycles they dream of, the sports they're fanatical about or the women they love, Cigar Advisor shares those passions with a razor-sharp edge, soaking up each day and experience as if it were our last. Find that passion and more on display at CigarAdvisor.com.