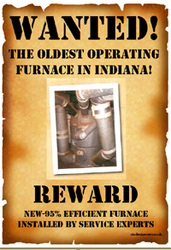 "Saving money shouldn't be uncomfortable"
Indianapolis, IN (PRWEB) November 23, 2009
That worthless old furnace might just be the one that Service Experts of Indianapolis is looking for. Service Experts wants to help the environment by replacing old furnaces with new "greener" furnaces, so they are holding a unique contest. The winner will receive a new, more efficient furnace to replace their old one.
There has already been one winner. Audrey Corne, a loyal maintenance customer of Service Experts, was surprised to receive a knock on her door on by Sales Manager Faizzy Saghir. Ms. Corne was informed that she had won the grand prize, a new dual fuel heat pump system.
Ms. Corne had placed a Service Experts yard sign in front of her home three months prior in hopes of winning one of the ten prizes available. Rodney Clapp, the company's installation manager, installed her new system the following week.
According to Doug Edwards; "Service Experts of Indianapolis is trying to help Indiana residents reduce their carbon footprint by searching for the oldest operating residential forced air furnace."
"As we encourage everyone to look at their impact on the environment we also take a hard look at individual comfort. Service Experts recognizes the need to make changes that do not require personal sacrifice or quality of life in exchange for quality of our environment," he said.
Continued improvements in heating technology and design have created opportunities for home owners to enhance comfort and lower heating costs at the same time. Variable-Capacity gas valve and variable speed blower motors not only lower operating cost, but improve overall comfort. These features assist with distributing air quietly and evenly throughout the home.
The design of "Intelligent" equipment allows for integration of zoning control systems to correct heating and cooling deficiencies of existing homes, therefore providing even temperatures throughout, while saving energy.
Edwards also asked for help from the public. "Increased comfort and reduction of our carbon footprint can be accomplished with the replacement of old and obsolete heating equipment. Service Experts is on a mission to find the worst offenders and we need your help."
The contest is open to residents of Indianapolis, Brownsburg, Carmel, Fishers, Plainfield and other communities near Indianapolis. All you need to do to enter the contest is email (doug.edwards @ serviceexperts.com, without spaces) with your name, address and phone number along with a photo of your furnace and the brand and model number of the furnace for verification.
Upon confirmation of the winning entree, Service Experts of Indianapolis will offer to remove and replace the obsolete and inefficient furnace with a Lennox G71P. This is the quietest and one of the most efficient furnaces available on the market today. This 95% efficient unit features a variable speed blower motor and modulating gas valve, this unit will be installed at no cost to the recipient.
Entries for our search will qualify to receive a free in home energy analysis of their furnace and attic insulation. This service is available upon request by calling 317-780-5299, just ask for Faizzy Saghir. For more information about heating, cooling and indoor air quality please visit us at ServiceExperts.com
# # #