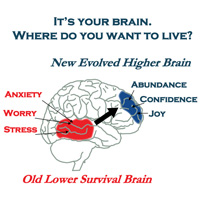 I have a turn-key business opportunity in place for qualified professionals,
Indianapolis, IN (PRWEB) May 15, 2012
In late May, Indianapolis will welcome Dr. Michael Cotton of AWAKEN Higher Brain Living™ for an informational talk about his innovative transformational program known as Higher Brain Living ® and H.E.A.R.T., which stands for Human Emergence and Rapid Transformation. Dr. Cotton pioneered this program and is now working to find others who are interested in becoming part of a movement which empowers people to improve their lives.
On Thursday, May 31, Dr. Cotton will host a complimentary presentation at the Crowne Plaza Indianapolis Airport Hotel for those participants who register before May 27. You may register at: http://higherbrainliving.com/trainingIN.php. If you register after May 27 the cost will be $95. The event will begin at 6:30 p.m. and last for two hours and will include a presentation by Dr. Cotton on the techniques he has developed as well as a question and answer session.
Dr. Cotton says, "I have a proven empowering and transformational platform to offer to life coaches, wellness coaches, social workers, chiropractors, psychologists and healing arts practitioner that will create a winning scenario for me, my partners, and most importantly, their clients." Dr. Cotton is based in Wisconsin and is the founder of AWAKEN Higher Brain Living™ Centers which specialize in techniques that shift individuals from lower brain just surviving to higher brain thriving. The long-term goal of Higher Brain Living is to help clients experience personal joy, enlightenment, and health in their own lives.
He adds, "There are three tiers to my concept and involve the following: Tier 1) Clearing stress from your life; Tier 2) Creating an extraordinary life and; Tier 3) Finding authenticity and meaning in your life. The goal is to help each person relive that defining moment and memory which they cherish as the best day they have ever experienced." Dr. Cotton says, "I can teach you how to relive that moment on a regular basis and bring positive personal changes through my Higher Brain Living program."
The focus of the business expansion that Dr. Cotton has undertaken in 2012 is geared toward finding like-minded professionals who want to become practitioners of Higher Brain Living® and open their own centers in communities in the Midwest region and beyond.
"I have a turn-key business opportunity in place for qualified professionals," Dr. Cotton notes, "and for those that qualify the future is very bright because you will be able to help others transform their lives with this leading edge program." The event in Indianapolis will outline the steps involved to become a Higher Brain Living® Partner.
Dr. Cotton challenges people to come listen and learn at this event because he is sure that those folks who hear his presentation will want to become partners in his quest to establish Higher Brain Living Centers around the U.S., but he also knows that many of those who attend will become clients at one of his Higher Brain Living Centers as well.
To learn more or to register for the May 31 event: http://higherbrainliving.com/trainingIN.php
AWAKEN Higher Brain Living™ promotes a movement of energy from the lower survival brain to the higher part of the brain so a person can thrive in all areas of their life. Created by Dr. Michael Cotton, Higher Brain Living® signals a major physiological shift in the transformation of humanity. A one-of-a-kind technique that frees fear-based lower brains, Higher Brain Living® offers clients the chance to create an extraordinary new life, to thrive, to let go of stress and overwhelm, to experience joy, confidence, and passion and to grow and evolve every day. Each client is provided a map and tools to be able to execute higher brain physiology which allows a new way to be, and a new way to do in the world. For information about Higher Brain Living and a Center near you: http://higherbrainliving.com/trainingIN.php