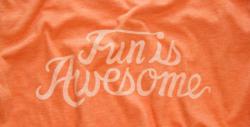 Whatever makes someone feel great is the truth that FIA wants to help consumers share through their clothing line
Seattle, WA (PRWEB) January 17, 2013
Great news to the indie world, "Fun Is Awesome" just released their first line of high quality clothing wear for consumers. Focusing on high quality design with a fun twist the owners are looking forward to helping everybody trend their slogan that, "fun is awesome" (FIA). The new American Apparel is made and printed right in the USA. Everything is designed intentionally right down to the packaging to make shoppers feel like they are getting something "fun". Check out their clothing line here.
Fun is not just a positive life statement, it means something different for everyone. Whatever makes someone feel great is the truth that FIA wants to help consumers share through their clothing line. The owner states that they accomplish this "by designing responsibly manufactured clothing and lifestyle products that are worth owning and sharing with others."
Whatever the means one uses to show off their fun positive attitude FIA makes it simple by helping consumers shout out their feelings all day long. The concept of FIA is definitely different. Most people will probably find the clothes to not only be high quality but to also brighten their day thinking about making the most out of fun.
For a fun new indie clothing company idea consumers should seriously consider checking out FIA. They plan on offering a full line of clothing wear including shoes, jeans, coats, sweatshirts, and more. To learn more about FIA's products visit here.
About FIA
FIA, was started in the Seattle WA area with the concept of helping people show off their feelings about fun. FIA has created a high quality designed clothing line which is produced right in the U.S.