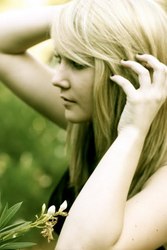 Borne from a tiny little corner of my bedroom, I would sit at my piano bench strumming my guitar and tinkering at the keyboard. And now, I am so blessed to work with and to know such amazing and talented people.
West Hartford, CT (PRWEB) April 20, 2010
Aubrey Wood is a sixteen-year-old singer/songwriter from West Hartford, Connecticut now living in Los Angeles, California. Her first release, the self-titled EP, "Aubrey Wood", is available for purchase starting today at most online music stores including iTunes, Amazon and Napster. Her music can also be heard online at LastFM.
Aubrey first learned to play guitar when she was just twelve years old and has devoted a large part of her life and focus since then toward refining her musical skills and pursuing her own compositions. By the eighth grade, Aubrey had written and recorded many songs by laying tracks down one-by-one using simple production tools and posting some of her work to MySpace and You Tube. Aubrey found further inspiration when she moved on to high school and was given the lead guitar role for the school jazz band and musical stage productions. At the end of Aubrey's freshman year, she posted her original song, "Heart", to MySpace and was overwhelmed by the comments and thousands of listens in the play count. Since then, Aubrey has composed several other original songs, many of which have also been widely sampled in the online space.
During this past year, Aubrey's composition, "Love Jenny" (inspired by the film, Forrest Gump), was performed by her entire high school choir during a key Fall performance and to the delight of hundreds in the audience and her fellow classmates. With time and maturity, Aubrey has continued to refine and fine tune her style and during the past year, caught the ear of several industry producers.
Aubrey's first EP, entitled "Aubrey Wood" was developed this past summer by Grammy winning producer, K.C. Porter and J.B. Eckl at World Beat Productions in California. All the music on this commercial production was written and performed by Aubrey on vocals and acoustic guitar with a strong assembly of contributing performers including J.B. Eckl on electric guitar, Paul Gonzales on drums, and Sean Hurley on bass. The EP was mixed by Jon Rezin from Next Movement Records (who mixes tracks for American Idol) and mastered by Chris Athens at Sterling.
The album draws inspiration from several current artists including Death Cab for Cutie, Owl City, Taylor Swift, Mat Kearney and many others.
Album Credits:
MUSIC & LYRICS BY AUBREY WOOD
VOCALS - AUBREY WOOD
ACOUSTIC GUITAR - AUBREY WOOD
ELECTRIC GUITAR - JB ECKL
KEYBOARDS - KC PORTER
DRUMS - PAUL GONZALES
BASS - SEAN HURLEY
CELLO - GIOVANNA MORAGA
PRODUCED & ARRANGED BY JB ECKL & KC PORTER
RECORDED BY AURIN LAHIRI, KC PORTER, JON REZIN & JB ECKL
WORLDBEAT RECORDING, CALABASAS CA
MIXED BY JON REZIN
MASTERED BY CHRIS ATHENS AT STERLING
PHOTOGRAPHY BY AIMEE PORTER
# # #