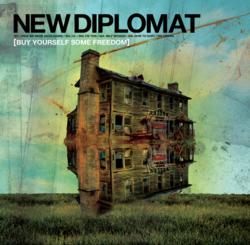 The juxtaposed lyrical layer, which contains highly emotional references to our lives, stands up to the high beats per minute that define the rhythmic foundation of most of our songs.
San Francisco, CA (PRWEB) September 20, 2011
New Diplomat, a San Francisco alternative band formed serendipitously from musicians who came to California from diverse countries in Europe and South America, has just completed their first album, which will make its debut next week at a live performance in downtown San Francisco.
"Buy Yourself Some Freedom" is a 6-song compilation that lead singer Horacio O'Brien-Ferres says is the bonding of two parallel universes.
The first universe delivers a rock-inspired foundation layered with hints of danceable Euro guitar riffs and electronic synthesizers, driven by frenetic drum beats with solid but melodic bass lines. The other is the lyrical world, which delivers very personal and poignant references to the band members' experiences.
"The juxtaposed lyrical layer, which contains highly emotional references to our lives, stands up to the high beats per minute that define the rhythmic foundation of most of our songs," said O'brien-Ferres.
"The songs explore our pasts, living and growing up on different parts of the planet, the stories of our lives, the tales we've heard, the lovers and friends we've left behind or made up in our minds, and the battles we have fought and that we are still fighting inside and out. We consider ourselves highly charged, modern troubadours."
Lead Singer Horacio O'Brien-Ferres came to San Francisco from Uruguay, Guitar player Paolo Giordano is from Italy, bass player Laurent Reber is from France, keyboardist Gio Gotti is from Argentina, and drummer Jef Pauly is originally from Belgium.
New Diplomat is currently producing a music video for one of the songs from the album: "Once We Were Hooligans." The nautical-themed video is the story of a break-up, adventure and reconciliation. The images contain flashbacks of the discarded relationship, and these memories bring the couple back together in the end.
The surreal album cover by musician and artist David Delander, aka Strangehalos, features the mirrored image of a neglected building suspended in a fractured, watercolor sky over an expanse of tall, golden grass. Delander says his focus is to ensure that the music and the cover art work together hand-in hand, so that the audience can enjoy them as one.
"To me the album cover is more than just a cover illustration; it could be at home hanging in a room as part of a living space," said Delander. "I approached this project in the same way I approach painting. I drew from both nature and urban architecture, and added a surrealist feel by using high contrast color schemes and making the imaginary world seem real and palpable."
The "Buy Yourself Some Freedom" Release Party is set for Sunday, September 25th at Vessel nightclub, located at 85 Campton Place one-half block from Union Square. The doors open at 8:30, and the performance starts sharply at 9:30 pm. Admission is $10, and bundles that include admission and the CD are available for $15. Traditionally a San Francisco electronic music venue, this event is Vessel's first time hosting a live music launch.
For more information about New Diplomat, call them at 415 754 3767 or visit them on the web at http://www.newdiplomat.net.
About Blush! Wine Bar
New Diplomat drummer Jef Pauly is also the founder of Blush! Wine Bar, a San Francisco wine bar that features a cozy décor inspired by some of the greatest wine bars of Europe. The Castro wine bar is located at 476 Castro Street near 18th, and is open Monday through Thursday from 4 pm to 12:30 am, Fridays from 4 pm to 1:30 am, Saturdays from noon until 1:30 am, and Sundays from noon until midnight.
The trained staff at Blush! helps guide guests through a selection of some 50 wines offered by the glass, a small selection from the wine bar's extensive wine list. Blush! also offers flavorful and authentic cuisine, antipasti, small plates and entrees, from a menu created daily by culinary artist Chef Martin.
# # #