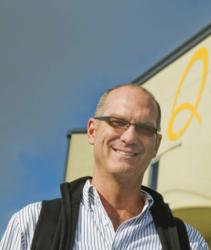 What is astounding is that in just 26 hours into our crowd funding campaign, we met our goal of $20,000
(PRWEB) November 15, 2012
On November 8 2012, Quickboats initiated what it hailed as 'a boating revolution' when it announced the upcoming release of its ground-breaking product - a uniquely designed folding boat that can be assembled in less than 60 seconds.
With strong public interest in the boat, the privately owned company started a 30-day campaign on Indiegogo.com. Quickboats' mission - to raise $20,000 for testing and certification to additional international marine standards earlier than planned.
"What is astounding is that in just 26 hours into our crowd funding campaign, we met our goal of $20,000. What is even more astounding is that so far people have chosen to buy the top option of $3,000 boats outright even more so than $79 options to purchase. This is a new realm for crowd sourcing sites where the average spend is $50 to $100.
"We're delighted with the tremendous buy in from Indiegogo supporters from all around the world proving that people are willing to reach deep into their pockets for something truly exceptional," Quickboats Managing Director Deryck Graham said.
At the time of this press release, the amount raised on Indiegogo.com had reached more than $33,389 with 24 days still left to go on the campaign.
The success on Indiegogo is a crucial step in the delivery of boats ahead of plan to international market places including Europe, Canada, the USA, Australia and Asia now getting there in late 2013 rather than 2014 plus.
Indiegogo is an industry leader in the phenomenon of crowd funding. The international site gives creative, artistic and business minds the opportunity to raise money for projects through public funding campaigns. The platform relies on powerful social media tools and word-of-mouth 'gogo factor' to entice early adopters to back innovation.
"The buzz generated by the campaign, along with the 3,000 enquiries received to date, has created an overwhelmingly strong foundation for the boat's successful release," Deryck said.
Weighing less than 40kgs, the boat can be folded to a flat packed, allowing for its transportation by hand, via vehicle roof racks or inside motor homes. It can then be stored by simply hanging it on the garage wall. The panels for the boat's hull are built using advanced composites, as are the super strong and super light hinges.
"The Quickboat is the ultimate in cool and convenience," Deryck said. "It can be powered by petrol or electric motor; can take up to 4 people and with 8 horse power cruises at 20 knots! It is ideal for a fishing, recreation or even use by emergency response services."
"We believe the boat represents a paradigm shift for the industry because it is not only fun, capable, affordable and easy to use at the end of your day on the water you can then just hang it on your wall."
"The window of opportunity is fast closing for people who want to secure a Quickboat
ahead of its general release in 2013, so I would encourage people to visit our website or contact us to see what their options are."
To get involved in the Quickboats' international fundraising campaign, go to http://www.indiegogo.com/Quickboats.
About Quickboats
Quickboats Holding Pty Ltd "Quickboats" is the owner and designer of the world's most advanced folding boat. The boat is a multi-award winning product with numerous international patents.
Quickboats is a privately held company with 25 shareholders. It has three wholly owned subsidiaries one that owns the Quickboat intellectual property and know-how another that handles the day to day operation of the business and a third, Quickboats LLC, that handles all sales and operation in the USA.
In April 2012 Quickboat Holdings Pty Ltd acquired all of the intellectual property and know-how relating to the Quickboat design from Quickstep Holdings Ltd a public listed aerospace company specializing in advanced composite manufacturing and technology development.
The Quickboat team is dedicated to delivering globally the single easiest, most enjoyable and simply coolest small boat in the world. To do this we use the best industrial designers, smartest composites engineers and best manufacturing technology to allow you to access the world's most amazing waterways – all delivered right to your door!
Learn more at http://www.Quickboats.com