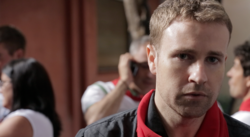 Forget what you think you know about running with bulls in Spain.
Los Angeles, California (PRWEB) April 22, 2013
Chasing Red follows 4 bull runners through 8 runs at the 2012 Fiesta de San Fermín in Spain. These runners have spent numerous years on the sett-paved paths of Pamplona's Old City. This includes the director, Dennis Clancey of Phoenix, Arizona. Dennis spent 6 years learning the craft firsthand, exploring how best to capture it on film.
The documentary features some of the world's best bull runners, including David Ubeda of Hellín, Bill Hillmann of Chicago, and Angus Ritchie of Glasgow. The cast also includes motocross champion Andy Bell, of Nitro Circus fame. Andy, David, and Dennis were featured in a Thrillist.com account of their fiesta (here). Bill Hillmann captured the daily events as a blogger for Outside Magazine (here). Dennis did a recent Q&A on TravelEdits.com (here).
"Forget what you think you know about running with bulls in Spain," says Dennis, "Chasing Red will change all of that."
Post-production will be funded by a variety of methods, including an Indiegogo campaign (here). Contributions can be made on Indiegogo in exchange for rewards, including credits in the film and DVDs of the completed documentary.
The crew utilized various methods to capture the Pamplona bull runs from various angles, including the use of cable-cameras above the route. The film is scheduled to be completed by the end of this year. The cast returns to Pamplona this July, to run with the bulls at the 2013 fiesta. They can be contacted through the Chasing Red website, where additional information about the film is available.