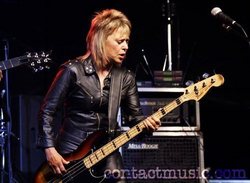 There are artists out there selling enough units to chart in the US, but they are not achieving the placements they deserve as they are not registered with Nielsen Soundscan. Well, now they can be. Lee Parsons - Ditto Music
London, UK (PRWEB) February 9, 2010
Ditto Music, the digital music distribution specialist for unsigned acts, have launched a ground breaking venture so that independent artists can now qualify for US and Canada Chart placement and claim airplay royalties.
Suzi Quatro, a major label veteran was the first artist Ditto helped register for the US charts, making her eligible for the Billboard hot 100. Suzi's new single "Singing With Angels" has been released completely independently, with all the perks of being on a major label.
"We have had staggering chart success in the UK and Ireland but US and Canadian artists need help as well. We know that there are artists out there who sell music online, with enough units to chart in the US. However, they are not achieving the placements they deserve as they are not registered with Nielsen Soundscan. Well, now they can be " commented Lee Parsons of Ditto Music.
Artists looking to release music independently should visit http://www.dittomusic.com, where they can now distribute music to hundreds of great stores like iTunes, Spotify, Android, Mog, HMV, and become chart eligible in the US, UK, Canada and Ireland.
About Ditto Music: Established in 2005, Ditto Music is the largest independent distributor of digital, mobile, ringtone and video content, supplying over 700 stores worldwide. In 2007, Ditto's indie music promotion was responsible for the first-ever UK top 40 single by an unsigned artist (Koopa). Since then, Ditto's distribution model has been posing a serious threat to the major labels. Ditto Music's roster includes My Vitriol, Lil Wayne, Suzi Quatro, Tupac Shakur, Finch, Samantha Fox and Fairport Convention.
Press and Business Contact e: Lee Parsons - lee (at) dittomusic (dot) com
Telephone. +44 (0)121 551 6624
http://www. dittomusic.com
###