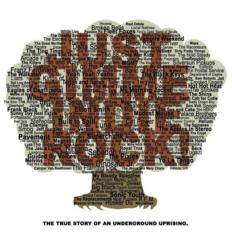 What will they give to see their entire generation's rock and roll history bought to light?
Los Angeles, CA (PRWEB) May 26, 2011
"What is Indie Rock? A sound, a movement, an ideal? After thirty years, why is it still so mysterious? Surely there is more to say about the largest and longest running rock and roll movement of modern times." So begins the pitch for the feature documentary film JUST GIMME INDIE ROCK! on Kickstarter.com, a DIY fan-funding website. "When I heard about how people are coming out in big ways to donate and support creative projects on Kickstarter.com, it just seemed like a no brainer," explains JGIR! producer, Brad Katz. "Indie fans gave Radiohead ten million in donations for their album "In Rainbows"... what will they give to see their entire generation's rock and roll history brought to light?"
Fans can contribute by going to the film's Kickstarter portal and selecting an amount between $1 and $10,000 to donate. In return for monetary donations they will receive participatory incentives, from T-shirts to actual "Producer" film credits; even an opportunity to appear in the film itself. JUST GIMME INDIE ROCK! plans to use the funds to travel and film the world's many local indie scenes. "We are scheduling over a hundred original interviews and performances with bands, record labels, famous indie fans, and the rock and roll intelligentsia" ponders Katz. "We are documenting forty years of virgin territory: we have to shoot, acquire, and clear so much to get it done, it's not going to come cheap or easy."
JUST GIMME INDIE ROCK! has already ignited the passion and participation of indie bands and fans. Forging ahead as best they could without a budget, they have managed to film performances and interviews with some of indie rock's biggest names: Henry Rollins, J. Mascis, Lou Barlow, Stephin Merritt, The Submarines. The filmmakers report they are constantly getting emails from people who have found their blog http://www.indierockdoc and want to be involved in some way, from editing interns to music enthusiasts who want to put on fundraising shows. Katz is both grateful and amazed, "We haven't even started to make a film yet and seasoned PR people and advertisers are asking what they can do for us!"
With so much goodwill, one might imagine that the filmmakers would try more traditional documentary film funding avenues, but the JGIR! team see fan-funding as more than a monetary proposition. "I know its an overused term, but it's so 'meta' " muses Katz, " indie rock is all about subverting the system and the status quo, doing it yourself, hustling to make it on your own terms, and thriving on the goodwill of those who 'get it'. We're going to give that model a try... if Kickstarter works, if indie fans come through, it all becomes part of their own indie rock story."
Indie Fans and music industry professionals will have until August 23, 2011 to make donations and join the JUST GIMME INDIE ROCK! production team on Kickstarter.com.
###