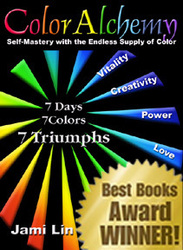 Discover the conscious choice of being happy and living on Jami Lin's YouTube video called the Light of Possibility
Miami, FL (Vocus) September 19, 2009
From her new classroom studio in Venice, Florida, Jami Lin introduces practical and "at-a-moment's notice" color therapy. Use Indigo to instantly sharpen concentration, reduce stress, produce inner calm, and entice good sleep.
Indigo represents the sacral third-eye chakra, which is located at the center of the forehead. Associated body parts include the face, eyes, nose, sinuses, ears, center of the forehead, brain, nervous system, and pituitary gland.
"Indigo is a multi-purpose color. Having trouble sleeping, press on the center of your forehead and focus on your breath riding on an indigo wave, and you'll be asleep in three breaths," says Lin. "If you are having concentration problems, just gaze at something midnight blue for a minute and your mind will be sharp and you'll be stress free."
Color can diagnose personality strengths and weaknesses thereby enhancing personal growth. By focusing on the needed color, life balance is restored and detrimental over-compensations for extra-strong attributes in particular colors are mitigated too.
"Following the sequence and simplicity of a rainbow, linking the essential, seven attributes of all human need and desire is as easy as remembering the days of the week."
"Integrate ColorAlchemy in the conscious mind by strengthening red attributes such as vitality on Monday. Tuesday, creatively incorporate more orange for pleasure. Command yellow on Wednesday for confidence. Trust green on Thursday for deepening love. Focus on blue on Friday for clarity. Connect with indigo on Saturday for awaking intuition and find inner peace with violet on Sunday for spiritual connection. Automatically, the 7 Days and 7 Colors easily convert into 7 Triumphs."
"No professional color therapy required, just apply simple-to-incorporate color habits. By merely thinking about the color of day and its respective attributes, the ultimate goal becomes automatic. The mind instantly calls upon the color attribute that is needed, and with its conditioned benefits, favorably shifts any circumstance."
People who are weak in the indigo color tend to be rigid in their mental discipline, yet live in a dreamy way, ignoring their intuition. They can be absent-minded, feeling mentally fuzzy, unable to concentrate. They feel insecure about trying to take time for themselves, and uncomfortable about their own feelings.
People lacking in indigo tend to have problems with their head and eyes. They suffer from headaches, eyestrain, blurred vision, and nightmares.
Those with too much indigo may suffer from anxiety attacks and delusions as they are ungrounded in physical reality. They also have difficulty fulfilling their basic personal needs.
Indigo is able to provide a sense of self-awareness, inner vision, and enhance natural psychic powers. It can calm and cool the respiratory system. It reduces swelling and bleeding and can calm an overactive thyroid. It can also shrink tumors, and tone and tighten skin.
Mind, body, and spirit healing can be brought to these areas by breathing in the color indigo. With eyes closed, meditate for two minutes on the indigo color, or on indigo objects, while taking deep breaths. Envision a healing indigo ray of light entering the body. Activate the power of indigo color by breathing in indigo and breathing out orange.
Use healing hands to touch affected parts of the body while focusing on that indigo color and doing color breathing. Healing hands can be one's own or those of trusted other person. Surround in the power of indigo by wearing indigo clothing, adding an indigo pillow or throw, changing a cell phone background or computer screen saver, or using violet dishes at meals and snacks. Store pills and vitamins in indigo containers.
Balance an excess of indigo by using orange, which is the complimentary color on the color wheel. Techniques are similar as to when adding indigo.
People healthy in the third-eye chakra are peaceful, relaxed, and open. They have a strong sense of their female energy and comfortable without restriction or self-consciousness.
"Discover the conscious choice of being happy and living on Jami Lin's YouTube video called the Light of Possibility," it is the root of all self-help and personal growth.
For more mind, body, and spirit benefits with color, visit Jami Lin at ColorAlchemy.com.
About us
Jami Lin's (JamiLin.com) new, award-winning ColorAlchemy book (ColorAlchemy.com) is heralded as ''advanced thinking for infinite possibilities.'' She is a 30-year veteran of interior design using home as a tool for emotional, mental, and spiritual health. Her expertise evolved into Feng Shui (Feng-Shui-Interior-Design.com), international recognition as a master with six best-selling books, an online home-study certification program, and PBS-TV pilot. Color is her trademark.
Jami's media section provides the press with valuable, tailor-made content using color therapy, Feng Shui, design, and youth-enhancing wellness in: Lifestyle/General Interest, Family/Children, Business Success, Home/Garden, Health: Body, Mind, Energy Medicine, Youth-Enhancing Secrets, and Human Spirit/Awareness.
Jami Lin is available for interviews.
Photographs available on request.
Media contact:
Joy Starr
941-276-8689
ColorAlchemy.com
Written by:
Andrea Coventry
585-482-7702
montessoriwriter.today.com/where-to-read-me
###