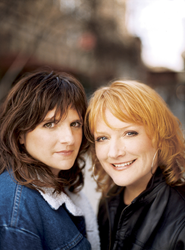 "The evening promises high energy and unbelievable harmonies, as favorite hits are performed with the backing of our state's very own highly-acclaimed symphony. A true once-in-a-lifetime experience," said Emily McLoughlin, DPAC Marketing Director.
Durham, NC (PRWEB) November 10, 2014
Triangle fans are in for a special live music experience when the Indigo Girls pair with the North Carolina Symphony at DPAC, Durham Performing Arts Center, on April 15, 2015. Indigo Girls are receiving critical acclaim for their symphony concerts; they first performed with an orchestra back in 2001, doing a series of shows with the Atlanta Ballet. Ray says "Ever since then I have pondered how cool it would be to have a set of musical scores to bring to orchestras around the country and play in a completely different setting." As described in a review by The Atlanta Journal-Constitution, "this setting provided a freshness that only added, never subtracted, from their songs." The folk rock duo is back by popular demand after their most recent full band performance at DPAC in 2012.
Tickets go on sale Friday, November 14 at 10 a.m.:

Online at DPACnc.com
DPAC Ticket Center: 919.680.2787, 123 Vivian Street, Durham, NC
Ticketmaster.com / Ticketmaster Charge by phone at 800.745.3000
Friends of DPAC members may place their orders on November 12. Joining Friends of DPAC is free, and you can register at http://www.dpacnc.com/fod.
"We are thrilled to partner with the North Carolina Symphony to present the Indigo Girls, one of music's most successful duos, in a setting that most local fans have only dreamed of. The evening promises high energy and unbelievable harmonies, as favorite hits are performed with the backing of our state's very own highly-acclaimed symphony. A true once-in-a-lifetime experience in our intimate theater setting," said Emily McLoughlin, Director of Marketing for Concerts & Comedy at DPAC.
Twenty years after they began releasing records as Indigo Girls, Amy Ray and Emily Saliers have politely declined the opportunity to slow down. With their legacy of releases and countless U.S. and international tours, Indigo Girls have forged their own way in the music business, selling over 14 million records. Amy and Emily are the only duo with top 40 titles on the Billboard 200 in the '80s, '90s, '00s and '10s.
After signing to Epic Records in 1988, Indigo Girls released their critically acclaimed eponymous album to thunderous praise; it remained on the Billboard Hot 100 Chart for 35 weeks, earning double platinum status. They received a Grammy® nomination for "Best New Artist" and won "Best Contemporary Folk Recording" in 1990. They were overnight folk icons who always live up to the high standards they have set for themselves: they've since released 14 albums (3 platinum and 3 gold), received six Grammy® nominations and have won one. Indigo Girls have toured with innumerable star acts including Neil Young, Emmylou Harris, Joan Baez, R.E.M., Sarah MacLachlan, Natalie Merchant, Jewel and Mary Chapin Carpenter.
The duo has balanced their long, successful musical career by supporting numerous social causes –Indigo Girls don't just talk the talk. Having established an intensely dedicated fan base, the duo remains relevant and attract new fans. With their latest release, Beauty Queen Sister, released on Vanguard Recordings, Emily Saliers and Amy Ray have long since secured a spot as one of the legendary musical acts of their generation.
About the North Carolina Symphony
Founded in 1932, the North Carolina Symphony gives more than 200 performances annually to adults and school children in more than 50 North Carolina counties. An entity of the North Carolina Department of Cultural Resources, the orchestra employs 66 professional musicians under the artistic leadership of Music Director and Conductor Grant Llewellyn, Resident Conductor William Henry Curry and Associate Conductor David Glover.
Headquartered in downtown Raleigh's spectacular Meymandi Concert Hall at the Duke Energy Center for the Performing Arts and an outdoor summer venue at Booth Amphitheatre in Cary, N.C., the Symphony performs about 60 concerts annually in the Raleigh, Durham, Chapel Hill and Cary metropolitan area. It holds regular concert series in Fayetteville, New Bern, Southern Pines and Wilmington — as well as individual concerts in many other North Carolina communities throughout the year — and conducts one of the most extensive education programs of any U.S. orchestra.
ABOUT DPAC
Since its opening in 2008, DPAC, Durham Performing Arts Center, has become the center for live entertainment in the Triangle. Recognized for its contemporary design, DPAC features 2,700 seats, intimate sightlines and state-of-the art sound and video. Listed four times in the top 10 in Pollstar magazine's annual worldwide theater attendance rankings, DPAC is currently the #4 ranked theater in the U.S.
What is up next at DPAC? One of the Biggest Heartland Rockers of All Time MELISSA ETHERIDGE (November 11), the 11-time Primetime Emmy® Award-winning show SO YOU THINK YOU CAN DANCE (November 12), and A Capella's Hottest Ticket STRAIGHT NO CHASER (November 13).
For more information please go to http://www.DPACnc.com.