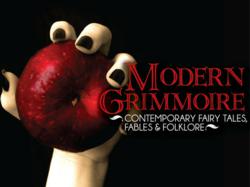 Our collection seeks not to reinvent or reimagine Grimm's Fairy Tales. Case in point: We're not looking for Cinderella with a cell phone.
Canton, Ohio (PRWEB) August 01, 2012
Indigo Ink Press, a nonprofit, literary press located in Canton, Ohio, is currently seeking writing contest submissions for its third book, "Modern Grimmoire: Contemporary Fairy Tales, Fables & Folklore." The anthology will be published in May 2013, and will include short stories, short drama, poetry and illustrations, submitted by authors and artists around the country.
The goal of the anthology is to offer emerging writers and artists the opportunity to showcase new literary tales, weaving new threads into the literary fabric. The submission deadline is Sept. 1.
The top submissions, selected from Indigo Ink's selection committee, will receive cash prizes in the anthology writing contest. A single award of $1,000 and publication will be given to the best emerging author of either a selection of poems, a short story, or short drama. A $500 prize and publication will be awarded to the best illustration submitted.
Submissions to the Modern Grimmoire writing competition require a reader's fee of $15, and should be original, previously unpublished/unproduced works in English (or translated to English), and black and white illustrations or photographs.
Contest winners and finalists will be published in 2013. Winners and finalists will be announced in Oct. 2012. All finalists published in the book will receive one copy of the anthology.
Further guidelines and online submissions can be made online through Indigo Ink's Modern Grimmoire submission form.
Indigo Ink Press is funding the anthology writing contest in part through a crowd-sourced fundraising program on Kickstarter. The project's fundraising goal was met after only 10 days of fundraising, and pledges are still coming in.
"Our collection seeks not to reinvent or reimagine Grimm's Fairy Tales. Case in point: We're not looking for Cinderella with a cell phone," said Jessica Bennett, executive director for Indigo Ink Press. "Our goal is to collect, as the brothers did 200 years ago, tales by and for the current generation, and to see how our creative collection is inevitably informed by those that came before it."
"With a little luck, and a lot of magic, perhaps 200 years from now a piece from our collection will have been altered and adapted by the generations, much like Cinderella, Snow White, and a multitude of other happily-ever-after predecessors," said Bennett.
EVENTS AND PROGRAMMING PLANNED IN CONJUNCTION WITH BOOK
In conjunction with the publishing of Modern Grimmoire, Indigo Ink Press has partnered with local grant-maker ArtsinStark, The Stark County Arts Council, to produce a complementary educational program for Canton-area students, grades eight through 12.
The press is also in the midst of planning a launch event for the book, including a lecture by Dr. Donald Haase, Associate Dean and Professor, College of Liberal Arts and Sciences, at Wayne State University. Dr. Haase is renowned fairy tale and folklore scholar, editor of Marvels & Tales: Journal of Fairy-Tale Studies and The Greenwood Encyclopedia of Folktales & Fairy Tales, among others.
The celebration of Modern Grimmoire will conclude with the Poison Apple Ball, a gala fundraiser and launch party for the new title in May 2013.
For more details, online submissions and information about events and educational programs, visit http://www.IndigoInkPress.org.
ABOUT INDIGO INK PRESS
Founded in 2009 in Canton, Ohio, Indigo Ink is a nonprofit, 501(c)3 literary press. The organization's mission is to publish the work of new and burgeoning writers and artists. In 2010, Indigo Ink published the first edition of Stark ARThology, a hardcover art volume. The book is the first art anthology dedicated exclusively to the art and artists of Stark County, Ohio, bringing together in one book the work of many eclectic, talented and creative visual minds. In 2011, Indigo Ink published the first of its poetry titles, Paper Covers Rock & Triplicity: Poems in Threes, a dual, flip-edition chapbook by two West Coast poets. Ultimately, Indigo Ink aims to publish between two and three titles per year in fiction, poetry and artistic non-fiction, with the potential to grow even more over time with community support and literary acclaim.