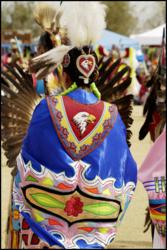 The Powwow is always an exciting time in the valley.
Indio, California (PRWEB) November 08, 2012
Brad Schmett, Broker Associate with Luxury Homes by Keller Williams, today announced that the local real estate communities of the Coachella Valley are anticipating a substantial influx of home buyers associated with the upcoming Indio Powwow at the Fantasy Springs Resort Casino.
The Cabazon Band of Mission Indians has scheduled the major intertribal event for Thanksgiving weekend November 23-25, 2012 in the special events center of the spacious Fantasy Springs Resort Casino and Indian reservation in Indio. The massive tribute to the heritage of Native Americans has been held for the past 18 years at this venue.
With at least 65 Native American tribes participating, it is expected that more than 6000 people will attend the three-day event. The huge influx of visitors triggers a surge in real estate activity each year. Schmett reflects on past years," the Powwow is always an exciting time in the Coachella Valley. Given the prominence of the Cabazon Band of Indians as well as several other tribes throughout the Valley, it is understandable that friends and family of those current residents are anxious to purchase homes close to people they love. They are always warmly welcomed by the local real estate community."
Two of the major highlights of the event will be the Saturday at 8 PM grand entrance; during which the tribal entries, dressed in elaborate authentic Native American costumes will form a procession that will wind its way into the events center and the beautiful legacy of the Sing Birds. This spectacular Gathering of Nations brings together a proud and noble people united by a shared history. Visitors will be able to experience the breathtaking beauty of Native American song and dance performed by descendants of the Original Peoples of North America.
A variety of booths offering Native American cuisine, including the ever popular Indian Fry bread along with handmade jewelry and other Indian souvenirs will add to the festivities. Don't miss an amazing weekend of history and fun when the 31st annual Indio Powwow gets underway.
Click here for more information on the Indio Powwow.
To find out more about investing in La Quinta, CA real estate visit http://www.laquintarealestateinfo.com
About Luxury Homes by Keller Williams: Luxury Homes by Keller Williams – La Quinta, is an exclusive, elite and sophisticated group of real estate consultants raising the bar for service in the upper-tier La Quinta residential real estate market.