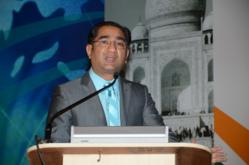 The Conclave is a unique opportunity for educationists and policy-makers from both countries to discover newer avenues of cooperation and collaboration between universities and governments in the two countries
Washington, D.C. (PRWEB) December 08, 2011
The three day Indo-US Education Conclave 2011 concluded today at Hotel Westin, Pune, India after a series of enriching sessions on various aspects of the Indo-US education partnership. A 90 member delegation from the US, amongst the largest ever to visit India, consisting of legislators and educationists participated in the event. The Alliance for US India Business (AUSIB) in association with the State Legislative Leaders Foundation (SLLF) and Dr. D Y Patil University, Pune hosted this first-of-its-kind international education event in India.
AUSIB President, Mr. Sanjay Puri while providing an overview of the event said that it was a unique opportunity for educationists and policy-makers from both countries to interact and discover newer avenues of cooperation and collaboration between universities and governments in the two countries. He further said that students in both countries are enthusiastic about exploring newer educational opportunities, and the Conclave owes its enthusiasm and energy to their thirst for better and bigger things. Mr. Puri also announced on the last day that a portal would soon be set up to aid Indian students looking for the right US University to enroll in.
Some of the topics discussed during the focus sessions included academic mentorship as an avenue of knowledge sharing; collaborative opportunities in research, exchange, distance education, vocational education and online learning; the emerging trends in medical education and the role of integrating technology for empowering education. The delegates also deliberated upon the opportunities and implications of bi-national policy initiatives and avenues of deepening Indo-US education ties.
The Conclave concluded on a high note, with the promise of continued dialogue and steps to be taken between India and US in the education field. During the valedictory function attended by Mr. Dilip V Patil, Speaker of Maharashtra Legislative Assembly, Dr. Vijay Bhatkar, Chairman, ETH Research Laboratory, Pune; and Dr. Makarand Jawadekar, Former Director, Pfizer among others, the speakers expressed hope that the dialogue will be converted into action, and collaboration between the universities and governments initiated at the Conclave would bring positive results for students in both countries.
Inaugurating the event on December 5, the Governor of Maharashtra, K Sankaranarayanan said, "Our higher education system needs a systematic overhaul, so that we can educate much larger numbers without diluting academic standards.'' While India's Union Minister for Sciences & Technology and Earth Sciences, Mr. Vilasrao Deshmukh said that with the Obama-Singh 21st Century Knowledge Initiative India and US had entered into a global strategic partnership and the event was an extension of the same. He hoped that the legacy of cooperation and collaboration in technology between the two countries extends into higher education as well.
Some of the leading personalities in education in India were felicitated with special awards during the inauguration ceremony at the hands of Mr. Sharad Pawar, India's Union Minister for Agriculture & Food Processing Industries. The recipients included Padmabhushan Prof. P.V. Indiresan, Former Director IIT- Chennai, Jane Schukoske, Former Executive Director, US Education Foundation for India, Dr. A. Gnanam, Former Vice Chancellor, Bharathidasan, Madras and Pondicherry Universities Chairman, NAAC, Dr. Anand Sarup, Former Education Secretary, Government of India, Mr. Shrikantdada Patil, Managing Director, Shri Gajanan Maharaj Shikshan Sanstha and Mr. Anand Mahindra, Vice Chairman and Managing Director, Mahindra & Mahindra.
Speaking on the occasion Mr. Pawar emphasized the need for the US and India to work together as partners, and said, "Indian education needs to understand the impact of the interactions and act accordingly. Dialogue will help remove all roadblocks in the education sector. "
The three-day conclave was a historic and significant event for education in India and the US. Going beyond mere meetings, it set the tone for further interactions on the educational front. The benefits of this event will definitely be seen in the coming months, with several agreements set to be signed between institutes in both countries.
About AUSIB: Alliance for U.S. India Business (AUSIB) is a leading non-profit trade association that offers a pathway to help your business succeed in the United States and India. AUSIB seeks to boost investment flows and trade between the two countries and open new channels of communication between business and government leaders. Visit us at http://www.ausib.org.
Follow us on Twitter, Facebook and LinkedIn.
###