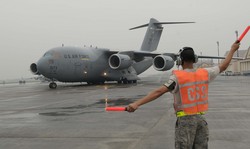 HARRT augments a host nation's medical response during times of disaster
Yokata Air Base, Japan (Vocus) October 7, 2009
Airmen assigned to Pacific Air Forces left here and Andersen Air Force Base, Guam, Oct. 5 for Padang, Indonesia, to provide medical care to those affected by the recent 7.6-magnitude earthquake.
The Airmen are part of an Air Force Humanitarian Assistance Rapid Response Team that left on two C-17 Globemaster IIIs for Indonesia. Padang and surrounding areas on the west coast of Sumatra were devastated by the Sept. 30 earthquake and several strong aftershocks.
The HARRT, comprised of members from the 36th Wing at Andersen Air Force Base, Guam; 13th Air Force at Hickam AFB, Hawaii; 3rd Wing at Elmendorf AFB, Alaska; and the 374th Medical Group here, combines medical and contingency response experts.
"HARRT augments a host nation's medical response during times of disaster," said Lt. Col. David Olson, HARRT medical commander from Andersen. "Four hospitals in Padang are damaged, two of them severely, so we'll be providing disaster relief, predominantly ambulatory care."
Included in the HARRT is a seven-person mobile field surgical team, consisting of specialists in the fields of general surgery, orthopedic surgery, anesthesiology and emergency medicine, out of the 3rd Medical Group at Elmendorf.
The HARRT is led by Col. Dan Settergren, 36th Contingency Response Group commander at Andersen. The team combines the command and control and base operating support capability of the 36th CRG with the medical expertise of medical personnel to form a small, rapid-response unit deployable within 24 hours to an austere environment to help host nations during disaster relief operations.
"With all the recent natural disasters, Pacific Air Forces is facing many challenges throughout the Pacific Rim," said Colonel Settergren. "With approximately 3,000 people still missing, Indonesia calls for the most need of urgent medical care."
A C-17 crew from Elmendorf transported the personnel and 13 pallets of equipment at Yokota, while a C-17 crew from Hickam transported the personnel and equipment at Andersen. The team is self-sustaining for up to five days.
By: Staff Sgt. Veronica Pierce
374th Airlift Wing Public Affairs
###