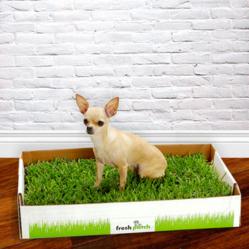 Los Angeles, CA (PRWEB) October 14, 2012
Andrew Feld, owner of Fresh Patch, LLC, the maker of the real-grass indoor dog potty, is encouraging all of his clients, as well as other dog owners, to learn more about the human-animal bond. "I just found out about the Human-Animal Bond Research Initiative Foundation (HABRI)," says Feld, "which supports activities that validate the positive impact the human-animal bond can have on the integrated health of families and communities. Founding sponsors include the American Pet Products Association, PETCO Animal Supplies, Inc., and Pfizer Animal Health. Several other organizations and companies are also supporters.
Feld says that he became aware of HABRI activities from one of the regular customers of his company, Fresh Patch. "I talk to my customers frequently," he says, "and I am always finding out new information about what's going on in the pet world. That's how I located HABRI Central, an on-line resource supported by the HABRI Foundation in conjunction with the Purdue University College of Veterinary Medicine and the Purdue University Libraries." (http://habricentral.org/)
When I visited the HABRI Central website, I discovered some interesting articles on topics such as the way that dogs may help to support pre-social behavior among children with autism, and on the effects of animal interactions on childhood allergies and immunity. While the website is a special resource for researchers, it also contains information that many pet owners and advocates will find intriguing.
Feld notes that the American Humane Society is also interested in the benefits of the human-animal bond. For example, the Society points out that, "Animal-Assisted Therapy (AAT) has been shown to help children who have experienced abuse or neglect, patients undergoing chemotherapy or other difficult medical treatments, and veterans and their families who are struggling to cope with the effects of wartime military service." (http://www.americanhumane.org)
There is even an American Association of Human-Animal Bond Veterinarians, says Feld. According to this Association, "Numerous scientific studies have demonstrated the physiological and psychological health benefits people derive from the presence of animals in their lives.
The prescription of an animal (dog, cat, bird, horse, etc.) is becoming a reality in the human health professions. Animals have been shown to provide physical and emotional benefits and services to the visually impaired, hearing impaired, the elderly and others in need."
Feld notes that one of the pioneers in exploring the human-animal bond is Aubrey H. Fine, a psychotherapist and university professor. His clinical practice has included treating children with Attention Deficit Hyperactivity Disorder, learning disabilities, developmental disabilities, and other problems. He is the editor of the 2010 book, The Handbook on Animal Assisted Therapy, which contains articles by leaders in the field. He is also the co-author, with Cynthia J. Eisen, of the 2007 book, Afternoons with Puppy: Inspirations from a Therapist and His Animals.
Research is clearly a key to understanding the human-animal bond, says Feld. For example, one recent study suggests that dogs may be drawn to comfort humans who are sad or otherwise distressed. ("Empathetic-like responding by domestic dogs [Canis familiaris] to distress in humans: an exploratory study," Animal Cognition, Volume 15, Number 5, 2012). The authors are Deborah Custance and Jennifer Mayer, both from the Department of Psychology, Goldsmiths, University of London, and their work is described in a June 2012 press release at Goldsmiths Research Online. (http://www.gold.ac.uk/news/pressrelease/?releaseID=947)
According to Feld, all of these efforts demonstrate that individuals and organizations are dedicated to an important field that is working to document and to further the many ways that animals interact with and benefit society. "Such work can lead to expanded research and clinical practice," says Feld, "and to the discovery of new knowledge useful to the health and well-being of both pets and humans."