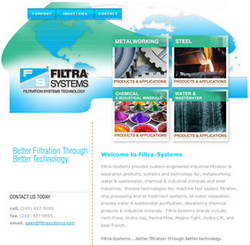 We are pleased to introduce this greatly improved information source for our customers, suppliers and future clients
Farmington Hills, MI (PRWEB) September 18, 2007
Filtra-Systems, Inc., a leading international provider of proven and patented industrial filtration and separation systems for international industries, announced today the launch of the newly redesigned website http://www.FiltraSystems.com.
By expanding the content of the former Filtra-Systems website, the new site will enable management, specifiers, engineers and purchasers a single source for almost any industrial filtration and separation application. This makes Filtra-Systems one of the largest--single source--online industrial suppliers of proven filtration and separation systems.
"We are pleased to introduce this greatly improved information source for our customers, suppliers and future clients," said Scott Bratten, Vice President of Filtra-Systems. "FiltraSystems.com is the result of an extensive process of listening to feedback from both clients and future clients, researching their needs, and redesigning our website to meet those needs.
Our goal was a one-stop B2B industrial filtration and separation site that continues the Filtra-Systems tradition of efficiently bringing the latest and greatest technology to the world.
Besides a new layout, FiltraSystems.com now features tested and proven product, application and installation examples for metal working, steel, water and wastewater, chemical and mineral industries.
FiltraSystems.com users will love the simplified site navigation, and will quickly see more detailed application information.
About Filtra-Systems:
For 29 years Filtra-Systems have custom engineered industrial filtration & separation products, systems and technology for the metalworking, water & wastewater, chemical & industrial minerals, and steel industries, worldwide.
In the metalworking industry we are market leaders in the design, manufacturing and installation of machine tool coolant filtration systems, fluid transfer technologies, chip processing systems and packaged oil treatment systems.
In the water and wastewater industry, we developed the "Best Available Technology:" for removing suspended solids and oil from industrial wastewater, process water or contaminated ground water, which allows the water to be recycled or meet environmental disposal guidelines.
In the chemical, mining or steel industry, we supply a wide variety of liquid-solid separation systems developed and patented by Filtra-Systems which help our customers simplify processes, increase production, improve product quality, reduce energy consumption and reduce labor requirements.
Filtra-Systems brands include:
Verti-Press, Hydro-Vac, Perma-Flow, Magne-Tight, Hydro-Lift, and Seal-Trench.
FiltraSystems.com fills the need for customized and profitable filtration and separation systems in most major industrialized countries and can help you with almost any filtration and separation problem you need solved, fast.
Filtra-Systems: Better Filtration Through Better Technology
Contact Info:
Joe Haligowski
Filtra-Systems, Inc.
23900 Haggerty Road
Farmington Hills, Michigan 48335
ph. 248-427-9090
fax. 248-427-9895
http://www.FiltraSystems.com
Filtra-Systems is an ISO9001:2000 registered company
###