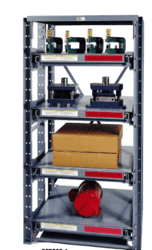 We need to get our customers juiced about ordering industrial shelving at A Plus Warehouse
Boca Raton, FL (PRWEB) December 27, 2011
A Plus Warehouse understands that industrial shelving can be expensive to ship. Relative to other material handling and storage items available, industrial shelving costs less per pound. This makes shipping more expensive as a percentage of selling price. For the month of January 2012, A Plus Warehouse is offering free shipping on industrial shelving orders over $5,000.00. Any charges beyond standard dock to dock will not be covered. Excluded freight charges include hydraulic tailgate, notification, and inside delivery.
Why would A Plus Warehouse make this generous offer? Simply to offer great value to the customers, and get them to realize A Plus Warehouse isn't just about lockers and conveyors! A Plus Warehouse also sells great lines of industrial shelving and it is the goal to get customers to order at A Plus Warehouse. According to Jim O'Sullivan, product manager at A Plus Warehouse, "Customers have been coming to us for years for lockers and work benches. We need to get our customers juiced up on our industrial shelving lines."
Mr. O'Sullivan is correct, and getting customers juiced up on A Plus Warehouse's industrial shelving will not be terribly hard with free shipping on large orders in the mix. Going along with the promotion is the simple fact that A Plus Warehouse sells excellent industrial shelving. A Plus Warehouse has an unrivaled stable of vendors including but not limited to Tennsco, Edsal, Hallowell, Penco, Triboro,Parent,Pucel,Republic, and Metro. A Plus Warehouse has customers covered for quality and heavy duty industrial shelving.
Sales people are ready to help with your needs now. Please let the representative know know the intention to execute the free shipping offer. Free shipping applies only to normally priced industrial shelving. Free shipping does not apply to existing quotes, and cannot be combined with other discount offers.
A Plus Warehouse:
http://www.apluswhs.com is your source for Industrial shelving and other warehouse equipment.
# # #