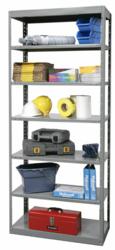 We provide customers a unique shelving solution.
Boston, MA (PRWEB) January 25, 2012
Industrial shelving is a very important family of products and is always in great demand. Hallowell produces fine quality industrial shelving , and A Plus Warehouse is pleased to now offer their Hi Tech Industrial Shelving and Duratech shelving online at http://www.apluswhs.com. Hallowell offers Hi Tech shelving in various configurations to fit the needs of individual customers. The shelf capacity varies based on the shelf design and shelf gauge as well.
Duratech is Hallowell's answer to the 'X' factor. Customers may well wonder what the industrial shelving 'X' factor is. Most all industrial shelving including the Hallowell Hi Tech line includes 'X' bracing for lateral support and stability. The Duratech pass through shelving, due to a unique design does not require 'X' braces at all. According to Dick Garnett, National Sales Manager at Hallowell,"Duratech shelving solves the 'X' factor and provides customers a unique shelving solution". Mr. Garnett has a valid point, and the Duratech line is now offered at A Plus Warehouse to make a great new line available to A Plus Warehouse customers.
Customers may be wondering why they should trust Hallowell List to provide industrial shelving. The answer to this question is one word – experience. A Plus Warehouse has over 15 years of experience with Hallowell List items such as lockers and storage cabinets as well. Although Hallowell's shelving line may be new to A Plus Warehouse, the line is well respected in the business world just as their other lines that A Plus Warehouse has been selling for over a decade.
Industrial shelving is offered in both starters and adders, and customers should understand the function of the two. A starter is a stand alone shelving unit while an adder shares posts. A run of 15 shelving units is 14 adders and one starter unit. Some industrial shelving is offered with beaded posts as opposed to angle posts for intermediate posts in the front. An angle post has a one inch projection which can get in the way. A beaded post is rounded, and allows for full access to the shelf. Typically angle posts are in the back as most shelving is accessed only from the front. Shelving applications that require access on all sides should favor Duratech shelving as already described.
A few words on A Plus Warehouse:
A Plus Warehouse is a master distributor providing quality industrial shelving and storage cabinets as well as other materials handling and storage equipment. A Plus Warehouse is always ready to help with any questions.
# # #