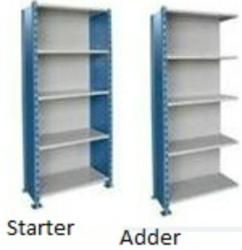 Industrial Shelving is a very important line for us. Please take advantage of your 10% discount.
Chicago,IL (PRWEB) July 11, 2012
A Plus Warehouse announces 10% discount on all Industrial Shelving for the month of August. According to Ed Stairman, President of A Plus Warehouse," Industrial Shelving is a very important line for us, it is for this reason that we are giving a 10% discount for the month of August." A Plus Warehouse has many great types of line of Industrial Shelving Including the BigBlue Krazy Cap, Akro Stak N Store Bin Shelving, and the Rivet Rack. All of these items are great are are A Plus Warehouse specialties. The company also has some new items.
A Plus Warehouse is proud to offer a new line of Industrial shelving. This is the deluxe line. The products in this line are the Deluxe Open and the Deluxe Closed. The Deluxe Closed is better for storing loose parts. In an Deluxe open, these items could fall out. These Deluxe items are designed for high Density applications with capacities of up to 1250# per shelf. This is twice the capacity of a standard post! When ordering Deluxe shelving items, it is suggested that a customer orders in starters and adders. Not only is this easier, but it saves money too. The Deluxe products are available in five, six, and eight shelf varieties. Additional shelves are available upon request as well.
The BigBlue Krazy cap is a favorite amongst A Plus Warehouse customers. This item is also exclusively sold at A Plus Warehouse. This type of shelving has a high capacity of over 1775 pounds per shelf. The actual metal can hold more, but the bolts sheer at 1775 pounds. It also has 14 gauge shelves with 10 gauge angle posts. It also includes five adjustable shelves on two inch centers. What makes are BigBlue products famous is that they come in customized colors for no extra charge.
If a customer is looking for a shelf with high storage space, A Plus Warehouse highly suggests the Akro Stak N Store Bin Shelving. This type of shelving has 50% more storage than the typical Industrial Shelf. It is great for storing bulky items!
Rivet Racks are yet another popular kind of Industrial Shelving at A Plus Warehouse. The basic unit for this item is seven feet with three shelves. Additional shelves are also available upon request. It has a 1200# capacity. If a customer is interested with something with more capacity the company suggests Bulk Racks. The Rivet Rack is also available with a particle board, wire deck or no decking at all.
About A Plus Warehouse: A Plus Warehouse owns and operates http://www.apluswhs.com and has since 1996. A Plus Warehouse is a nationwide materials handling dealer specializing in industrial shelving.