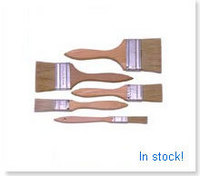 We combine this research with the best materials and workmanship to deliver the finest quality industrial brushes at a competitive price."
Torrington, CT (PRWEB) December 20, 2009
Solo Horton Brushes, a leading supplier of industrial brushes since 1920, has expanded its portfolio of chip brushes and touch up brushes. The company maintains one of the nation's most extensive offerings of brushes featuring a variety of sizes, shapes and material to help meet the varying needs of industries of all sizes.
"Since our founding nearly 90 years ago, we have continually tested new designs and fiber samples the old-fashioned way -- with human hands," said L.J. Skeie, President of Solo Horton Brushes. "We combine this research with the best materials and workmanship to deliver the finest quality industrial brushes at a competitive price."
Solo Horton chip brushes are used for thousands of jobs every day – from close work to production lines, from metal-turning to wall painting, touch-ups and cleaning tasks. The company's extensive inventory includes the 60W, 65, 67, and 80 Series chip brushes which are available in a variety of widths, thicknesses, and bristle lengths to meet the job at hand.
The expanded line of touch up brushes features red sable, camel hair, and white China bristles set in epoxy for solvent resistance. Traditionally, touch up brushes are used for paint; however, they also are popular in many other industrial applications including circuit board touch up, photo retouching, ceramics, and gluing. Like all products offered by Solo Horton, these touch up brushes deliver exceptional value and versatility.
Solo Horton Brushes maintains one of the most comprehensive selections of industrial brushes in the industry. The company keeps every item in stock, and ships most orders the same day as placed. Additionally, all orders over $75 qualify for free shipping.
For more information on the company's chip brushes and touch up brushes or to order a product catalog, visit solobrushes.com.
About Solo Horton Brushes
Solo Horton has set the standard for industrial brushes since 1920. The brush supplier offers an extensive inventory of more than 1 million brushes, including tube brushes, paint brushes, chip brushes, wheel brushes, industrial paint rollers, and more, that blend quality and economy at every price level. All industrial brushes are in-stock and ready for immediate shipment. Quantity discounts are available. For more information, visit solobrushes.com or call 1-800-969-7656.
###