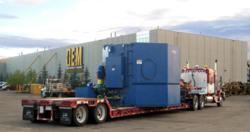 We continue to have a strong international presence because our parts washers clean dirty parts using power wash technology and high heat rather than excessive amounts of chemicals.
(PRWEB) January 17, 2013
StingRay Manufacturing, located in St. Louis, Missouri, manufactures aqueous parts washers for such industries as mining, aircraft, railroad, and diesel engine rebuild and new manufacturing. With clients including Caterpillar Inc., Joy Global (P & H MinePro), GE, SAS Airlines, American Airlines, Westinghouse, the US Military, and others, the manufacturing company prides itself in its ability to export its oversized parts washers to countries all over the globe.
The company recently succeeded in exporting its largest parts washer, the StingRay model SR13648. This green cleaning machine measures just over 20 feet in width and meets Green Technology standards, making it the largest environmentally friendly parts washer in the world. With a 136" diameter turntable, the machine is designed to clean C175-20 Caterpillar Blocks horizontally. This particular model successfully shipped to Alberta, Canada to OEM Reman – a company that rebuilds diesel engines for CAT mining equipment like the heavy haul trucks for moving oil and tar sands ore.
"Our 108 engineered options allow StingRay, to configure the washer exactly to the end user's needs," says Marc Treppler, President of StingRay Manufacturing. "Last year we shipped industrial sized parts washers to China, Russia, Australia, Japan, Chile, and twelve other countries across the globe. There are no limits to where we can deliver our cleaning systems."
StingRay seeks to deepen its market penetration in the China, Australia and South American markets while also expanding its outreach to other countries seeking industrial cabinet style parts washers, including the United States. Most of the company's sales are direct from factory, though it does have representation in China. A target focus is mining and energy prospects in regions such as Perth, Australia; Antofagasta, Chile; the oil sands of Canada and portions of Africa. These areas currently offer the best international opportunities for StingRay washing equipment.
"Many international countries are just now understanding the differences between aqueous washing versus solvent washing. We continue to have a strong international presence because our parts washers clean dirty parts using power wash technology and high heat rather than excessive amounts of chemicals," adds Treppler.
The smallest StingRay parts washer features a total system flow of 180 gallons per minute. The largest parts washer StingRay offers contains a total system flow of 1004 gallons per minute. This is more than 4 tons of cleaning solution a minute. Currently, international sales make up 52% of StingRay's sales. All of the company's heavy duty parts washers are made with, high-power pumping systems and use solvent free detergents to clean large parts faster and more thoroughly.
For more information, or to request a quote, please visit StingRay's website: http://www.stingraypartswashers.com.
ABOUT STINGRAY MANUFACTURING LLC
StingRay Manufacturing provides cleaning solutions to transportation, mining, agriculture, oil, earth moving, and trucking industries. StingRay manufactures a full line of cabinet style parts washers, including diesel engine washers and electric motor parts washers, as well biodegradable detergents and parts washer replacement parts.
StingRay Manufacturing designs and manufactures energy-efficient heavy-duty parts washers for engine rebuilders, electric motor rebuilding, off road vehicle maintenance and railroad maintenance operations. StingRay Manufacturing has global sales offices, manufacturing and R&D operations in St. Louis, MO. Please visit http://www.stingraypartswasher.com for more information.