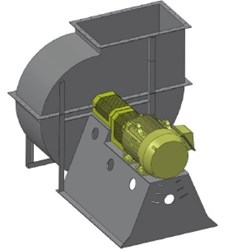 We are excited to release our own backward curved fan because it enables users to handle higher pressures at higher efficiencies.
Rhinelander, WI (PRWEB) August 23, 2013
Rhinelander, Wis.-based AirPro Fan and Blower Co. recently expanded its product line to include a new backward curved fan. This high-performance fan can efficiently handle clean air or air with light dust loading in high pressure applications, making it a worthy complement to AirPro's ever-growing roster of products.
AirPro's new fan—aptly named for its backward curved wheel—can be utilized for a diverse range of high-pressure, industrial applications, including thermal oxidizers, scrubbers, baghouses, forced draft, induced draft, drying kilns, and pulp and paper machines.
"We are excited to release our own backward curved fan because it enables users to handle higher pressures at higher efficiencies," said Founder Keith White. "The product also allows us to cater to a wider variety of industries and better serve our clients' needs."
As a manufacturer of industrial exhaust fans and high pressure blowers, AirPro is somewhat unique in its competitive stance. The company differentiates itself by adapting its products to meet clients' individual requirements. "We are a technology-driven company with a focus on delivering high quality products," White said. "We have our standard-engineered lines, but we can also customize all of our products."
AirPro offers an array of industrial fans and blowers to move airstreams of all types, including clean, dirty, hot, cold, abrasive, corrosive, and material-laden air. Its product line features backward inclined fans, centrifugal radial tipped fans, material handling fans and blowers, high temperature plug fans, high pressure blowers and other centrifugal blowers. The company's high-quality products are due, in part, to its more than 100 years of combined engineering experience and AWS certified fabricators. In addition, its products are tested and rated according to AMCA 210 for air performance and AMCA 300 for sound. They also undergo other strict quality control analyses.
In addition to its quality, AirPro also distinguishes itself by its integrity. The firm's skilled engineers design and manufacture industrial fans and blowers as if they are going to own, use, and maintain them. In essence, the professionals at AirPro operate under the Golden Rule, treating others as they would like to be treated. This approach to doing business has served the company well over the years. Today, AirPro is a leading manufacturer of industrial fans and blowers for numerous industries.
For more information about AirPro's backward curved fan and other products, please visit http://www.airprofan.com or contact any of its sales engineers at (715) 365-3267.
About AirPro Fan and Blower Co.
Founded in 2002, AirPro Fan and Blower Co. strives to produce premier quality products with premier customer service. The company combines decades of engineering and manufacturing experience to create a full line of industrial fans and blowers for various applications. Using a unique perspective and internal processes, it offers standard-engineered products that can be customized to clients' needs. A privately-held firm, AirPro is headquartered in Rhinelander, Wis.
###