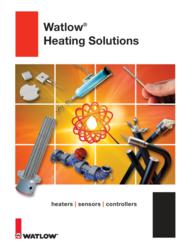 St. Louis, Missouri (PRWEB) May 23, 2013
Watlow®, an industry leader in the design and manufacture of complete thermal systems, recently introduced its new catalog, Watlow® Heating Solutions. With more than 90 years of experience in designing and manufacturing industrial heaters, Watlow provides the industry's most complete selection of products to serve diverse customer needs.
A description of the company's lead-time options is featured at the beginning of the book. These options allow high demand products to be expedited, reaching customers quickly and reducing potential downtime.
Watlow offers the largest variety of electric industrial heaters in the industry and its new catalog highlights the full product offering with descriptions, specifications, applications, line drawings and photos. A selection matrix describing different heater types and their applications is also included.
An easy-to-read table of contents with bold section headings makes it simple for customers to find the information they need as quickly as possible.
As with other Watlow catalogs, the new Heater catalog is available in several formats including a printed book, on Watlow's website http://www.watlow.com as a PDF file, on CD and now, as a flip book, which is more user-friendly on smart phones and tablets.
About Watlow
Watlow designs and manufactures industrial heaters, temperature sensors, controllers and supporting software as well as assemblies – all of the components of a thermal system. The company partners with its customers to optimize thermal performance, decrease design time and improve efficiency of their products and applications.
Watlow brings its experience to numerous industries, including semiconductor processing, environmental chambers, energy processes, diesel emissions, medical and foodservice equipment.
Since 1922, Watlow has grown in product capability, market experience and global reach. The company holds more than 200 patents and employs 2,000 employees working in nine manufacturing facilities and three technology centers in the United States, Mexico, Europe and Asia. Watlow also has sales offices in 15 countries around the world. The company continues to grow, while the commitment remains the same – to provide its customers with superior products and services for their individual needs.
For additional information, call your nearest Watlow representative:
Watlow
Phone: 1+ (800) WATLOW2, 1+ (314) 878-4600
Fax: 1+ (877) 893-1005, 1+ (314) 878-6814
Internet: http://www.watlow.com
Email: inquiry[at]watlow[dot]com
Australia, +61 3 9335 6449 • China, +86 21 3532 8532 • France, +33 1 41 32 79 70
Germany, +49 (0) 7253-9400-0 • India, +91 40 6661 2700 • Italy, +39 (0) 2 458-8841
Japan, +81-3-3518-6630 • Korea, +82 2 2628 5770 • Malaysia, +60 3 8076 8745
Mexico, +52 (442) 217-6235 • Singapore, +65 6773 9488 • Spain, +34 91 675 1292
Taiwan, +886 7 288 5168 United Kingdom, +44 (0) 115 964 0777