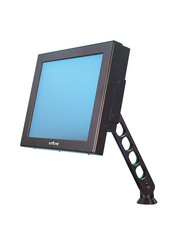 Toronto, Ontario (PRWEB) January 14, 2008 -
Stealth Computer Corporation has introduced their new TuffTouch Industrial Grade LCD monitor. Stealth's TuffTouch is a rugged versatile touch screen LCD monitor designed to stand-up to the rigors of industrial and commercial environments.
The 17 inch all-steel enclosed touch screen LCD Monitor is built to withstand the demanding effects of harsh environments typically encountered in industrial plant floor environments. The NEMA 4/IP 66 LCD front-panel withstands water, dust and dirt intrusion and performs well beyond ordinary commercially available monitors. The high precision, metal encapsulated 17 inch viewable display is capable of running resolutions up to its native mode of 1280 x 1024 pixels with both analog and digital input sources. The TuffTouch features low power consumption, wide viewing angles, superior image quality with 250 nits of brightness, 8ms response time and a contrast ratio of 500:1
TuffTouch is available with resistive and capacitive touch screen options and includes a wide-range of versatile mounting options such as wall, bench top, pendant arm and ceiling mounts. All Stealth LCD monitors are plug & play capable requiring no video drivers or special interface cards.
The Stealth TuffTouch LCD's are ideal choices for applications such as, Human-Machine Interface, Factory Automation, Process Control, Interactive Kiosks or demanding applications where vital information must be displayed.
Founded in 1990 Stealth Computer Corporation is a leading manufacturer of specialized Computers and Peripherals. The company is ISO 9001 registered and continually develops innovative products designed to meet the exact needs of their clients. For almost two decades Stealth has provided thousands of proven reliable product solutions that have assisted clients with a myriad of applications. Our impressive customer base includes a wide range of customers from single man operations to Fortune 500 companies, Military installations and Governments worldwide.
For more information, press only:
Andrew Pakula, Stealth Computer Corporation, PH: 905-264-9000 ext #243
e-mail: marketing @ stealth.com
For high quality digital images of Stealth's products (300 DPI) http://www.stealth.com/images.htm
Stealth's main website and corporate information is available at: http://www.stealth.com
###