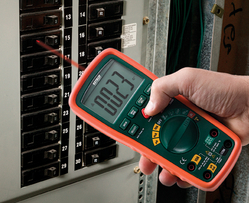 Waltham, MA (Vocus) July 8, 2009
Extech Instruments, a leading supplier of test and measurement tools for the industrial and electrical marketplace, announces its new EX570, ideal for industrial, plant maintenance and MRO electrical technicians. In addition to comprehensive multimeter functions, high accuracy (0.06%), and True RMS precision, the EX570 protects users with Category IV-600V (and Category III-1000V) safety ratings. Additionally, the EX570 features an integrated infrared thermometer, a patented function only found on Extech meters.
The new Extech EX570 is designed to withstand harsh environments and usage with a rugged, double-moulded housing. The large, illuminated LCD displays a 5-digit readout (to 40,000 counts) and a useful 40-segment bar graph for analog comparisons and quick tests. The EX570 offers a wide array of must-have multimeter measurements (including capacitance, frequency, diode and continuity functions) coupled with convenient, one-button access to frequently used functions: Min./Max., Average, Hold, Relative, and Peak Hold. Store up to three measurements in the onboard memory.
In addition to type K thermocouple temperature measurements, the EX570 offers an integrated infrared thermometer for safe, point-and-shoot, non-contact temperature measurement with a useful 30:1 spot-to-distance ratio. The EX570 not only ensures electrical technicians can perform all essential electrical diagnostics, the built-in IR makes it easy to identify overheating motors, electrical panels, and other components from a distance and without an additional meter.
Complete with double-moulded test leads, type K bead wire temperature probe (thermistors), magnetic hanging strap, 9V battery and storage case.
For more information on the EX570 and other products available from Extech Instruments, please visit http://www.extech.com/instruments.
About Extech Instruments, a FLIR Company
Headquartered in Waltham, Massachusetts, USA, Extech Instruments is one of the largest suppliers of test and measurement equipment worldwide. Founded in 1971, Extech is known for its depth and breadth of products and its innovation in providing instruments with unique combinations of features that make them highly useful and very convenient. All Extech meters are distributed worldwide through leading representatives, distributors and OEMs. The company is ISO 9001 2000 certified and is a wholly owned subsidiary of FLIR Systems, Inc. (NASDAQ: FLIR) Visit http://www.extech.com to learn more.
###