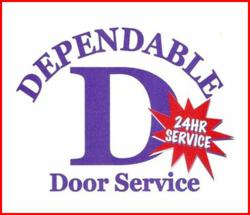 We strive to offer all of our customers prompt and professional service when needed and that's why we specialize in 24hour service. We feel that the web is definitely one way customers might want to find us around the clock
Mississauga, Ontario (PRWEB) May 10, 2012
Business web presence directory, LocalHood.ca, has opened up its B2B listing categories for commercial and industrial overhead door companies. Local businesses that specialize in the installation and service of commercial door systems for industrial and commercial buildings can feature their business information on LocalHood.ca to grow their online business web presence.
Mississauga, Ontario based "Dependable Overhead Door Service of Bramalea Ltd." is the first overhead door advertiser to join the directory. Dependable Overhead Door Service of Bramalea Ltd. has been servicing the Greater Toronto Area (GTA) including the cities of Mississauga, Brampton, Whitby and Oshawa since 1980. The company specializes in both the installation and the servicing of commercial and industrial overhead doors - including 24 Hr. service - for all makes of industrial doors and dock equipment.
Dependable Overhead Door Service of Bramalea Ltd. has two office locations including a satellite office located in Whitby, Ontario and the company's head office located in Mississauga, Ontario. Dependable Overhead's company president, Kelvin Ward, said that the decision to advertise on the LocalHood.ca directory was geared towards "increasing our company's online visibility making us easier to find for customers who are searching for the products and services we provide located within our service area."
Ward added, "We strive to offer all of our customers prompt and professional service when needed and that's why we specialize in 24hour service. We feel that the web is definitely one way customers might want to find us around the clock." For non-emergency enquires, Dependable offers potential customers a free evaluation of their existing overhead doors and dock leveler equipment in need of repair or replacement.
B2B companies are progressively looking to increase their local web presence for keyword searches that include their services or product brand names along with geographical modifiers that include location based information such as a city name. For example; Overhead Door Service Whitby is a potential search query that a potential customer might type into a search engine when looking for the installation of, or the service repair of, an overhead door system in the Whitby, Ontario area.
An advertiser in the overhead door vertical could be marketing to consumers for residential garage doors or to businesses for a wide range of doors systems that are required by industrial and commercial buildings. A typical B2C advertiser in this space would specialize in the sales and installation of residential garage doors, garage door repairs and overhead garage door openers.
B2B advertisers in this space typically provide sales and service for an extensive range of door systems including; overhead sectional doors, fire doors, rolling steel doors, overhead coiling doors, dock levelers and more. Customers can include new construction projects and all types of existing industrial, commercial, institutional and other buildings that are looking to upgrade the security and energy efficiency of their service entrances.
Installation of "High Speed Doors" is an example of an overhead door system that can offer energy savings. Manufactures of High Speed Doors promote these door systems as being both internally and externally, energy smart. They protect interior working areas against wind, rain, snow, contaminants and harsh temperatures. They open and close very fast, improving traffic flow while providing a measure of environmental control. Applications for High Speed Doors can include; car dealerships, fire stations, auto body repair shops and restaurants to name a few examples.
About LocalHood.ca
LocalHood.ca is an emerging, local web presence business directory that has recently launched as a live beta site. LocalHood.ca presently hosts location based information for a variety of Canadian businesses in addition to local event listings and classified ads.
"LocalHood" is a LocalHood Marketing trade mark. For more information, go to LocalHood.ca. Questions can be directed to (289) 752-7335 or toll free 1-888-975-9222 email: info(at)localhood(dot)ca