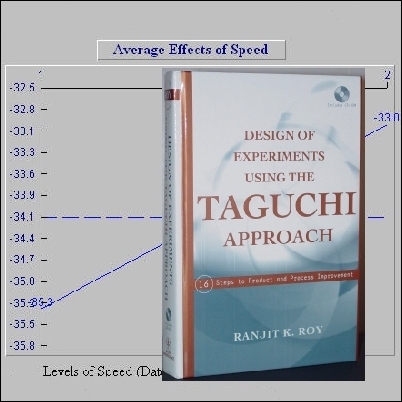 There are actually two educational segments that companies must address to be globally competitive in today's market. The number of trained professionals available for the work force (skilled labor shortage caused by baby boomers retiring) and the level at which the labor force is educated
Atlanta, GA (PRWEB) May 30, 2007
Offered every quarter in Atlanta, GA. And in St. Louis, MO., these sessions are intended to train & prepare attendees for immediate applications. Workshop participants learn how to apply the Taguchi technique confidently and become a specialist within their own organization. Although, participants are welcome to attend alone, they are encouraged to attend with their project team to derive greater benefits. Maintenance, engineering and project managers who have immediate needs for process optimization or production problem solving, will find the October 9-12, 2007 (ATL) and February 26-29, 2008 sessions helpful.
Design of Experiment (DOE) using the Taguchi approach is a statistical technique for selecting the most desirable option or combination from among a number of possible options. The technique has been effectively used in product design optimization, process development, and problem solving for years. This workshop like the PID workshop BIN introduced in 2006, will give production support personnel the advanced manufacturing training necessary to understand and implement the complex processes, methods, and controls.
According to Don Fitchett, President of Business Industrial Network, this process improvement training goes towards their initiative to deliver advanced manufacturing training.
"There are actually two educational segments that companies must address to be globally competitive in today's market. The number of trained professionals available for the work force (skilled labor shortage caused by baby boomers retiring) and the level at which the labor force is educated".
Don goes on to add; "Our set of public training workshops inherently addresses the issue of skill shortage while the topic matter is more focused on the initiative of increasing the skill level of your work force. Our more advanced training topics like PLC, PID and now the DOE training increases maintenance, engineering and management personnel's skill sets. This gives them more tools to tackle the problems on the production floor as well as build quality into their products and processes."
This workshop will led by Ranjit K. Roy, Ph.D., P.E., and PMP (M.E.), President of Nutek; Inc. Dr. Roy specializes in the Taguchi approach to quality improvement. He is also the author of two leading textbooks on Taguchi application, and custom software used in the workshop. Dr. Roy has been helping manufacturers in this area learn how to solve problems, improve quality, and reduce costs since 1987.
About Business Industrial Network
Business Industrial Network's (BIN95.com) core business is delivering world class onsite engineering and maintenance training. With over 150 facilities for local training, Business Industrial Network delivers off-site maintenance training in major cities across the United States. Working closely with their partners, Business Industrial Network offers a comprehensive suite of maintenance, management, mechanical and electrical training services.
http://www.BIN95.com
###