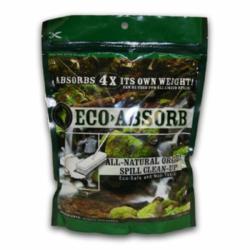 I'm amazed at how many industries continue to use clay despite the risks and the costs associated with its use.
Ontario, CA (PRWEB) July 30, 2012
Eco>Absorb, an all-natural, environmentally-friendly industrial absorbent, can now count the United States Military as part of a growing roster of satisfied customers who have made the switch from clay-based absorbents. Representatives from Eco>Absorb, at the request of Ret. Army Captain Christopher Williams, founder of CC Industrial Supply, recently travelled to the East Coast where the product was demonstrated at Master Jet Base Oceana, the largest US jet base in the world. The trip also included live demos at Naval Station Norfolk and presentations to key government officials including the Governor of Virginia and a delegation of representatives from local and state offices.
The trip started with live demos at Master Jet Base Oceana. At their request, Eco>Absorb was tasked with picking up 3 different spills: JP-5 Jet Fuel, Antifreeze and Used Motor Oil. Tommy S. Cheng, Director of Operations, Manufacturing and Quality Control, was on hand for the demos, and according to Mr. Cheng, "Their entire group was blown away. We simulated a real world spill by using asphalt as the surface. Not only did we clean each spill thoroughly, but I reused the same product from one spill to clean-up the next, clearly demonstrating the highly absorbent nature of Eco>Absorb."
Historically, the U.S. Military has used clay for spill clean-up and remediation. Clay is significantly heavier and far less effective, typically requiring multiple applications to clean up a spill, and still leaving oily residue behind. Clay, also referred to as "kitty litter" in the industry, also contains crystalline silica, a Group 1 carcinogen that requires the user to wear a protective mask to mitigate the risk. "I'm amazed at how many industries continue to use clay despite the risks and the costs associated with its use," added Mr. Cheng.
It hasn't taken long for other military units to take notice. Not long after tests of the product lead to initial orders, stories of time and money saved began circulating, causing others in the military to take notice. As a result, Eco>Absorb now counts the Norfolk Navy Shipyard, Langley Air Force Base, AMSEC, and the Army & Air Force Exchange as part of a growing list of military locations using Eco>Absorb for their spill management programs.
"The military is an ideal proving ground for our products. They are regularly dealing with a wide array of spills, from oil and petroleum products, to chemicals and bodily fluids. Our line of products can meet these demands and offer specific benefits that clay just can't match. We look forward to a long and growing relationship with the U.S. Military," added Mr. Cheng.
Information on the Eco>Absorb line of super absorbents can be found online at http://www.eco-absorb.com.
About Eco>Absorb
Eco-Absorbent Technologies, Inc., manufacturer of the Eco>Absorb line of super absorbents, is the absorbent industries leading provider of all-natural, eco-friendly spill clean-up solutions. Billed as Nature's Ideal Spill Management Solution, Eco>Absorb is the official absorbent used for spill clean-up in Target stores nationwide, and can be purchased online through HomeDepot.com. Eco>Absorb is OMRI Listed and NSF Certified. To learn more, visit their website at http://www.Eco-Absorb.com, or contact Gabe Thrasher at 866-820-8050.