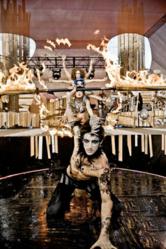 Oakland, CA (Vocus/PRWEB) July 05, 2011
This month, the Bay Area industrial arts school The Crucible invites guests to explore a world of flames where seductive sirens, fallen angels, fire breathing acrobats and irresistible creatures from the underworld beckon guests to join their luminous conflagration and return with them to the fiery depths. This sizzling extravaganza, The Crucible's INFERNO: A Fire Circus, will take place July 14 to 16 at their facility in Oakland.
At INFERNO: A Fire Circus, ladies and gentlemen will be directed to feast their eyes upon the amazing Lucent Dossier Experience aerialists, dancers and fire performers who will heat up the main stage during three separate vignettes. Guest should also direct their attention to a host of mesmerizing sideshows featuring glass blowing, sword making and fire dancing.
Those feeling lucky can step right up and try their hands at one of The Crucible's fiery circus games that include Flaming Skee Ball, Pyro Putt, High Strike or the Incinerator, while enjoying the hypnotic sounds of the Crucible-made flaming Ballyhoo Calliope.
"INFERNO continues The Crucible's tradition of presenting our community with spectacular one-of-a-kind performances that highlight the dramatic possibilities of the industrial arts," said Interim Executive Director Steven Young. "It's a fun way to introduce Bay Area residents to the creative playground that's available to them here at The Crucible throughout the year."
On the evening of Thursday, July 14, The Crucible will host their 6th annual Fire & Light Soirée and Art Auction where guests will be treated to a three-course dinner, live art auction and a preview of INFERNO: A Fire Circus. This event dovetails with the Fire Circus and helps the organization raise money for its adult and youth educational programs.
Everyone attending the weekend's events will directly support Bay Area industrial art classes and educational programs as all proceeds will go directly to The Crucible.
Interactive characters, music by DJ Mancub from the Space Cowboys and original haute cirque costuming are on the agenda. Although ADA seating is limited, the event is wheelchair accessible.
The Lucent Dossier Experience is a Los Angeles-based group renowned for its burlesque-flavored performances aimed at mature audiences. This is the first time The Crucible and Lucent Dossier have collaborated together to create a one-of-a-kind entertainment experience.
Working media professionals are invited to a press preview and technical rehearsal on Wednesday, July 13 for photos, video and interviews with the performers. For details, please contact Jennifer Harrity at jennifer@thecrucible.org or (510) 250-3687.
The Crucible produces two large events each year: A fire opera or a fire ballet in January and the Fire Arts Festival in July. These events help The Crucible bring awareness to industrial arts by showcasing some of the amazing works created by students and teachers.
Advanced tickets for INFERNO: A Fire Circus are now on sale at http://www.thecrucible.org. The price is $50 for Friday night and $55 for Saturday night. Tickets purchased at the event are $60. Discounts are available for Crucible members.
Tickets for the Fire & Light Soirée and Art Auction on Thursday night are $250 and may be partially tax-deductible.
For more information about these events or The Crucible, call (510) 250-3687 or visit them on the web at http://www.thecrucible.org.
About The Crucible
The Crucible is a San Francisco Bay Area industrial arts educational facility that specializes in instruction in the fine and industrial arts to people at all skill levels. What started on January 15th, 1999 in a 6,000 square-foot warehouse in Berkeley has now grown to a 56,000 square-foot building in the heart of West Oakland.
The Crucible offers instruction in industrial and fine art for every level from beginning and intermediate to advanced levels in formats ranging from three-hour tasters to ten-week programs. Prices vary by course and duration. Class fees include tuition, studio fees, materials, tool access and safety training. There are no shopping lists for supplies or hidden costs.
###