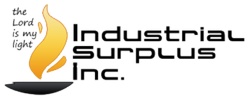 Industrial Surplus offers the best service to help company's recover surplus assets.
Houston, TX (PRWEB) April 30, 2013
Industrial Surplus Inc, North America's pioneer surplus seller launches a nationwide campaign to buy new, used and surplus valves. This exclusive campaign does not just target at Valves only but a variety of surplus equipment, machinery and scrap metals.
Industrial Surplus announced today that they will be making a buying trip to several cities and states nationwide to buy new, used and surplus valves. The president of Industrial Surplus, Gino Parker believes that often many businesses are not aware of the kind of money that is lying within their yards in surplus material. Often this material is over-ordered, not inventoried and miscalculated.
Industrial Surplus Inc. provides the best service to help recover the most money for company's Surplus Assets. For example: Ferguson Enterprises contacted Industrial Surplus to help with their FNW Surplus Valves. A representative flew to Ferguson's headquarters and provided them with a quote for their entire FNW list that they consider Surplus or overstocked. Ferguson Enterprises was paid upfront and the Surplus Valves were shipped to customers overseas, who was in need of this exact quality of Surplus Valves.
These are the types of valves that Industrial Surplus is looking forward to purchasing during a buying trip. If there is a need to sell or dispose of any of the above mentioned valves for the asset recovery value in the industry then contact Industrial Surplus. They buy and stock various brands and manufactures for example:

Fisher Control Valves
Crane Valves
Bonny Forge
WKM Valves
Tyco Valves
Xomox-Tuflin Valves
Durco Valves
Smith Valves
Rosemount Valves
Foxborro Valves
Aloyco Valves
Bettis
Consolidated Anderson Greenwood
Swagelock
Velan
For more information please watch this video http://www.onetruemedia.com/shared?p=122f9d3311ef94bb94e048c&skin_id=701&utm_source=otm&utm_medium=text_url
Website: http://www.industrialsurplusworld.com
Visit this Valve Directory page at: http://www.industrialsurplusworld.com/asset-recovery/surplus-valves-and-fittings