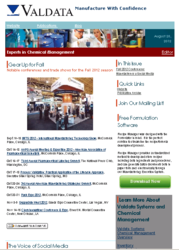 The Valdata industry newsletter weeds through information from a multitude of sources to find the stories and issues most relevant to readers
Fairfield, NJ (PRWEB) September 11, 2012
Valdata Systems today announced the launch of a new industry newsletter for manufacturers.
The newsletter provides news and information for manufacturers in the pharmaceutical, cosmetic, food and chemical manufacturing industries.
In this digital age, with so much information from so many sources, the Valdata industry newsletter weeds through information from a multitude of sources to find the stories and issues most relevant to readers such as product recalls, FDA announcements and industry events.
The newsletter also features editorial articles on important issues faced by manufacturers today. Topics covered have included reducing human error on the shop floor, protecting new product investment and the impact of social media on manufacturing.
The newsletter is available on the Valdata Systems website and by free e-mail subscription. To view or subscribe to the newsletter go to: http://www.valdatasystems.com/resourcecenter.html
About Valdata Systems
Headquartered in Fairfield, NJ, Valdata Systems is a premier provider of Chemical Management solutions specifically targeting the Pharmaceutical, Flavor & Fragrance, Nutraceutical and Chemical Manufacturing industries.
For more information on Chemical Management Systems, Inventory Control Systems, Recipe Manager and other products provided by Valdata Systems please visit: http://www.valdatasystems.com