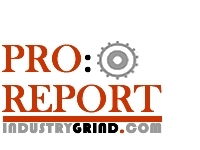 Baltimore, Maryland (PRWEB) May 20, 2008
This week two new web shows were released in two different formats. The first show is titled "The Pro:Report" a viral video show hosted by Aaron Altscher and Alichia Angeles with a daily news segment from CEO Sencera Bright. The show gives a fresh perspective on the inner workings of the entertainment and media industry. It also explores news, strategy, reviews and resources as it pertains to our members interests. The show is offered as a 24-hour stream on the Industry Grind site and is available on-demand on 14 different viral video sites.
Industry Grind Conversations is a podcast show hosted by various Industry Grind insiders. Each week our insiders talk with some of the most influential people in the business. This show gives our listeners insight on what it took for the highest profiled professionals to make it happen and their current views on where the industry stands now.
Industry Grind is headquartered in Baltimore, Maryland and has an editorial office in New York City. Industry Grind is a media company that predominately focuses on entertainment and media business. Its Business Network, Editorial and Media divisions were recently relaunched. Founded in 2004 by Sencera Bright a marketing and new media professional. Visit us at http://www.industrygrind.com
-30-