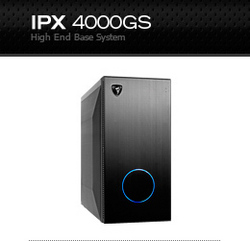 Our gaming systems are built with the best components and assembled by hand in the USA. We have been building high quality computers for over 25 years and we are confident that Infamous Platforms will offer the total solution for video gamers
Dallas, Texas (PRWEB) August 21, 2008
M&A Technology, a leading manufacturer of supercomputers and high-performance servers, announced today the launch of its new division Infamous Platforms (http://www.infamousplatforms.com), which will offer video gamers access to advanced computing technology that will effortlessly run today's most demanding video games.
Through its new Infamous Platforms division, video gamers can now benefit from M&A Technology's 25 years of experience, deep knowledge of technology and unparalleled commitment to excellence. M&A Technology has built supercomputers for organizations as diverse as Siemens and the Air Force Research Laboratory, in addition to other major government agencies, leading companies and top universities.
Infamous Platforms will break new ground in manufacturing quality for gaming computers. The production process starts in a state-of-the-art research and development laboratory. Once the configuration is verified and tested, the gaming systems are produced in an ISO 9001-2000 certified facility. Every system undergoes a 48-hour stress test and burn-in process to ensure the highest quality.
Infamous Platforms will also revolutionize the industry by offering the best value in computing power and the highest standard of customer service. Additionally, Infamous Platforms has partnered with top leaders in the video gaming industry to ensure that it quickly becomes a global leader in the manufacturing of innovative video game computer systems.
"Our gaming systems are built with the best components and assembled by hand in the USA. We have been building high quality computers for over 25 years and we are confident that Infamous Platforms will offer the total solution for video gamers," says Jihad Jubran, Vice President Ecommerce Sales. "In essence Infamous Platforms will raise the bar for what gamers should expect from a video game computer manufacturer."
To join the infamous revolution visit Infamous Platforms at http://www.infamousplatforms.com
About M&A
M&A Technology started in 1984 as a technology solution provider for education. Since then it has grown into other markets such as OEM, Commercial, and High Performance Computing. The company's success can be attributed to its commitment to customer service and continued innovation. M&A Super Computers can be found in the Top 500 fastest supercomputers list at http://www.top500.org
Contact:
Sina Azmoudeh
sina@macomp.com
M&A Technology
2045 Chenault Drive
Carrollton, TX 75006
Toll Free 800-225-1452
###