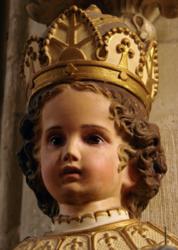 The new site has been dedicated to Marjorie C. Jensen who was devoted to the Infant of Prague all her life.
Sharon, WI (PRWEB) July 22, 2012
The Infant of Prague has a long history in the faith tradition of the catholic church. The image of the Child Jesus known as the "Infant Jesus of Prague" was in reality of Spanish origin. In the 17th century, this beautiful statue was brought by a Spanish princess to Bohemia and presented to a Carmelite monastery.
Devotion to the Infant Jesus of Prague is devotion to the Child Jesus. It is veneration of the Son of God, who in the form of an infant chose a stable for a palace, a manger for a cradle, and shepherds for worshipers.
Today, the original statue resides in the church of Our Lady of Victory and its adjacent building, the monastery of the Infant Jesus of Prague belonging to the Order of the Discalced Carmelite Brothers, is located in one of the oldest parts of the historical centre of Prague. On September 26, 2009, Pope Benedict addressed the audience: "I greet all of you warmly and I want you to know what joy it gives me to visit this Church, dedicated to Our Lady of Victory, where the faithful venerate the statue of the Infant Jesus, known throughout the world as the Holy Infant of Prague. The image of the Child Jesus calls to mind the mystery of the Incarnation, of the all- powerful God who became man and who lived for thirty years in the lowly family of Nazareth, entrusted by Providence to the watchful care of Mary and Joseph. My thoughts turn to your own families and to all the families in the world, in their joys and difficulties. Our reflections should lead us to prayer, as we call upon the Child Jesus for the gift of unity and harmony for all families. The figure of the Child Jesus, the tender infant, brings home to us God's closeness and his love. We come to understand how precious we are in his eyes, because it is through him that we in our turn have become children of God." (http://www.thepapalvisit.org.uk/Pope-Benedict-XVI/Apostolic-Journeys/Czech-Republic/Pope-Benedict-XVI-at-the-Holy-Infant-of-Prague)
Prayers, prayer requests and requests for devotional materials are available at the site.
A multimedia page has been added to provide access to specific prayers to the Infant including: Infant of Prague Novena Prayer, 9 Hour Novena Prayer for Urgent Requests, Prayer of Thanksgiving, Prayer of Rev. Cyrillus a Matre Dei.