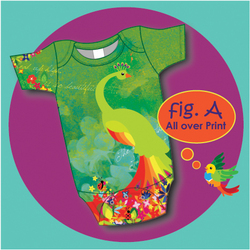 Forward thinking infant and toddler clothing companies are taking advantage of the limitless creative opportunities sublimation printing offers while resulting in very profitable sales. Companies, for example www.mybaddbaby.com, are doing amazing designs
Santa Ana, CA (PRWEB) July 7, 2009
Infant and toddler sublimation printed clothing is hot and receiving top dollar at retail. Printing placement opportunities are limitless thus creating a look that is WOW. This look is new for infant and toddler clothing, even though the process has been around for a while, says Rock from The Laughing Giraffe Infant & Toddler Apparel Company in Santa Ana, CA.
"Forward thinking infant and toddler clothing companies are taking advantage of the limitless creative opportunities sublimation printing offers while resulting in very profitable sales. Companies, for example http://www.mybaddbaby.com, are doing amazing designs," says Rock from Kidsblanks of Santa Ana Ca.
Sublimation allows for printing all over (front and back) of your garment (see figure A). This is a fascinating process where the print is impregnated into the fabric and not on top (as with silk-screening or heat transfers). Colors are more vibrant and exciting plus minimums for full color printing are not a consideration. The print is more permanent than silk-screening while being soft as if originally woven.
Not only can the print be all over but can be placed for example on one sleeve (See figure B) or around the body (see figure C).
Kidsblanks, the manufacturer of The Laughing Giraffe ®, has both Soft 65/35 blends and 100% polyester items available for Vintage and Vivid printing designs, respectively.
Products available for sublimation printing include Toddler T Shirts; Newborn & Infant Short Sleeve & Long sleeve One-pieces, Burp Cloths, Lap T Shirts, Beanies, Hats, Bibs, Receiving Blankets and Burp Cloths
For more information contact:
Clive Rock USA 888-529-3883 or 714-966-2396 (in Ca)
# # #