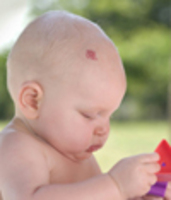 "We look forward to the opportunity to contribute to the development of this treatment that has such potential to make a difference in the lives of children with infantile hemangioma."
Wilmington, NC (PRWEB) April 7, 2011
Pierre Fabre Dermatologie has retained Inclinix, Inc., to assist in the enrollment of patients for the HEMANGIOL study, a Phase II/III clinical trial of a potential treatment for reducing infantile hemangioma(IH), also known as strawberry birthmark.
Infantile hemangioma are red blemishes or bumps made up of small blood vessels. They affect around 3 to 10% of children born, and may appear on the head, face and neck in approximately 50% of cases. They are often not present at birth and usually become more obvious in the first weeks thereafter. Although many IHs shrink and disappear without medical intervention by the age of 10, some do not and may cause residual lesions and/or complications including vision and airway obstruction. Current IH treatments include surgery, laser treatment, cryotherapy, corticosteroids and vincristine. The HEMANGIOL study looks to explore a new possibility by determining whether a treatment that is already licensed and used for various conditions in adults can reduce hemangioma growth in infants aged 35 – 150 days. The HEMANGIOL study will compare a placebo to propranolol in approximately 450 children with IH worldwide.
Inclinix, a Wilmington, North Carolina, USA-based clinical trial enrollment solutions provider, will utilize its innovative recruitment tactics to ensure the enrollment of the HEMANGIOL study. "We are pleased that Pierre Fabre has chosen Inclinix as their enrollment partner for the HEMANGIOL study," says J. Tobin Geatz, President and CEO, Inclinix. "We look forward to the opportunity to contribute to the development of this treatment that has such potential to make a difference in the lives of children with infantile hemangioma."
Pascal Lefrançois, Director Medical Dermatology Division says: "The enrollment of patients in such a study is an important phase. We have chosen Inclinix because we have the conviction that it will help us in this critical stage for the development of this awaited treatment."
The HEMANGIOL study is enrolling at doctor's offices in California, Georgia, Illinois, Massachusetts, Missouri, New York, Oregon, Pennsylvania and Washington. To learn more about the HEMANGIOL study, visit http://www.birthmarkstudy.com/?ms=oprd05 or call 800-658-7871.
About Pierre Fabre
The Pierre Fabre group is the second largest independent French pharmaceutical company with a 2009 turnover of €1.80 billion. It employs nearly 10,000 people, including 1,400 employees dedicated to R&D activities.
Dedicated to dermatology, Pierre Fabre Dermatologie provides a therapeutical response to various cutaneous pathologies, in particular acne, mycosis, psoriasis and alopecia, and involves in the development of new therapeutical solutions in dermatology. To learn more about Pierre Fabre, please refer to http://www.pierre-fabre.com.
About Inclinix, Inc.
Inclinix, Inc., a global clinical trial solutions provider specializing in customized Phase I‐IV clinical trial enrolment solutions, including site recruitment, patient recruitment, and patient education and retention. Inclinix corporate headquarters is located in Wilmington, North Carolina USA, with additional offices in Annapolis, Maryland USA, and Gothenburg, Sweden. http://www.inclinix.com
# # #