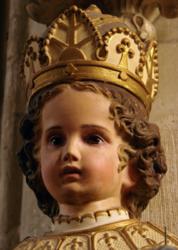 Blessed Medallions
Lake Geneva, Wisconsin (PRWEB) January 01, 2013
InfantOfPraguePrayForUs.org staff will be visiting some of the most holy sites and shrines in Europe and will have several hundred Infant of Prague Medallions blessed at each location. These Medallions will be offered free of charge, while quantities last starting at the end of January.
Holy sites being visited for Medallion blessings include: The Shrine of Mary in Fatima, Portugal; The Shrine of Mary in Lourdes, France, Our Lady of Victory Church, Prague, Czech Republic (location of the original Infant of Prague Statue); and The Vatican.
The Medallions, made of copper, have images of the Infant Jesus and some contain the image of the Blessed Mother Mary.
Those interested in receiving a free, blessed Medallion can visit the home site: http://www.InfantOfPraguePrayForUs.org.