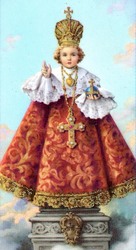 Woodstock, IL (Vocus) February 18, 2010
A new website has been launched, http://www.infantofpragueprayforus.org, which provides information on the history and devotion to the historic religious image; The Infant Jesus of Prague.
Statues of the Infant of Prague can be found in literally millions of homes throughout the world and hold religious significance to Christian families.
The original statue of the Infant Jesus of Prague is made of wax and stands 18 inches tall. It is housed in Our Lady of Victory Church in Prague in the Czech Republic. The statue and devotion dates back to the year 1628 when the Carmelites, a catholic order of monks, took possession of the holy image.
Many miracles have been attributed to the devotion to the Infant Jesus of Prague.
In Spanish-Christian culture, a similar devotion exists called Santo Niño de Cebú or Santo Niño de Atocha which is the depiction of the Child Jesus and is popular in Spain, Mexico, Philippines and the southwestern United States, especially New Mexico.
Future development of the website includes plans for a member forum and monthly, devotional, online prayer groups where members will be able to participate in real time.
A limited number of Infant of Prague medallions are being given away to those who sign-up for an e-newsletter at http://www.infantofpragueprayforus.org.
# # #