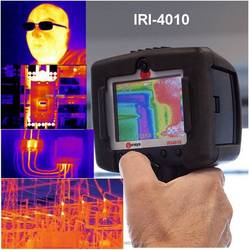 The IRI-4010 is the first cost effective thermal imaging tool for demanding inspection and preventive maintenance applications that require high thermal sensitivity over a wide temperature range
(PRWEB) July 28, 2010
Pembroke Instruments, LLC, a leading supplier of affordable infrared thermal imaging solutions, introduces the IRI-4010 with ultra high thermal sensitivity (< .08 deg. C) as the price/performance breakthrough needed by professionals in building diagnostics, energy audits, weatherization, preventive maintenance, roofing, green construction, and inspection. The IRI-4010 incorporates a high grade 160X120 sensor and provides image quality and temperature sensitivity at a level only previously available from much more expensive alternative solutions. Pembroke Instruments, LLC has promotional offers for the IRI-4010 below $3,000 in an effort to provide affordability without any sacrifice in performance needed by most engineering and inspection professionals. "Thermal imaging applications are on the rise, mostly driven by energy conservation and safety programs, but many customers could not make a purchase until an affordable model with high thermal sensitivity became available" according to Dr. Leslie M. Tack, President of Pembroke Instruments, LLC. According to Dr. Tack, the main reason inspection and engineering professionals purchase the IRI-4010 is because they have found, through demonstrations and discussions with colleagues, the IRI-4010 has equivalent or better performance than much more expensive alternatives. "It all boils down to this: you can pay $2,000 to $5,000 more for other brands but why should you if you carefully examine the comparative performance of the IRI-4010," according to Dr. Tack.
The 4010 differentiates itself in the field of handheld infrared thermal imaging cameras by maintaining affordability and high thermal performance. The IRI-4010 supports outstanding thermal sensitivity, thermal range and image quality. The camera constructs a high definition image onto a large, 3 ½" color LCD, maintains a wide temperature range (-10C to +250C), and exceeds the BPI/RESNET sensitivity of .10 deg. C (actual is < .08 deg. C). The IRI-4010 has the ability to measure and simultaneously track two user selected temperatures in a scene. The thermal cameras comes complete as part of a kit that includes waterproof carrying case, rubber protection cover, sun visor for the lens assembly, SD image storage (1000 images). The 4010 is backed by a two year warranty and financing is available for all camera and training products.
Thermography training is essential to all professionals that employ thermal imaging as part of their business services or work function. Pembroke Instruments sponsors four thermography training classes yearly at our headquarters in San Bruno, CA. We also can arrange training at your site for 6+ students. Our instructors are leading thermography experts from The Snell Group. These classes meet the standards of the American Society for Nondestructive Testing (ASNT). For more information about the IRI-4010 infrared thermal imaging cameras visit our website, email sales(at)pembrokeinstruments(dot)com or call 650-616-4202.
About Pembroke Instruments, LLCPembrokeInstruments, LLC, is a leading supplier of handheld infrared thermal imaging cameras. Our headquarters is in San Bruno, California. Our customers typically work in the following areas: home and building inspection, facilities engineering, preventive maintenance, energy audits, weatherization, semiconductor and solar manufacturing.
Thermal Imaging on FaceBook by Pembroke Instruments
Linkedin Thermal Imaging Group for Inspection and Preventive Maintenance
For more information contact:
Dr. Leslie M. Tack
Director of Sales
Tel. 650-616-4202
sales(at)pembrokeinstruments(dot)com
# # #