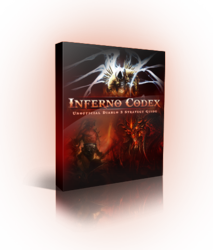 (PRWEB) May 12, 2012
After years of waiting, Diablo 3(D3) fans will be able to enjoy what seems to be the final battle between the forces of Hell and the mortal realm. The dark fantasy-horror RPG is probably the most anticipated game of the year bringing many changes to the title, four new classes and a returning character (source: en.wikipedia.org/wiki/Diablo_III). This installment of the game also called for guide authors to develop new resources to aid players accommodate with the changes faster. With that being said, a team of veteran RPG players released the complete guide to the game under the title of Inferno Codex.
The guide itself incorporates useful information for the players, covering essential elements of the gameplay experience, focusing on the leveling aspect of Diablo 3. To complete this guide, the team included class mechanics, gold-making techniques and other features to give the players a head start in the race to level 60. The level of competitively in the game leaves little time for research and theory crafting about class specifics and mechanics for a smother leveling experience. In the Inferno Codex Guide, players are spared from the time consuming research phase and get the chance to experience the game as if they know exactly what and how needs to be done.
This entire effort of putting together a complete speed leveling guide required the aid of multiple gamers with a known experience with RPGs and MMOs. World of Warcraft players from guilds like Ensidia, Premonition, and Exodus accompanied by the Maximization from Rift were handpicked to put this guide together and build a complete leveling resource. All these guilds are known for their valuable contribution to the above mentioned titles as their video guides are available for the gaming community and they are taken as reference for boss fights in both World of Warcraft and Rift.
Inside the Inferno Codex Diablo 3 guide, players will gain access to several modules. The main highlights of the Inferno Codex pack are the Quest Guide, the Class Guide and the Power Leveling Guide. These three resources combined can aid players reach level 60 faster than others and experience the endgame content while others still struggle. The guides were built to fit any class and combined with the Runes Guide they also help the players master their character. Additionally the guide includes the Gold Guide and the Artisan guide to cover the monetary part of the game and the crafting system. As a bonus, players also gain access to a small brochure that can help them decide what class to choose.
More details available at http://infernocodex.org.