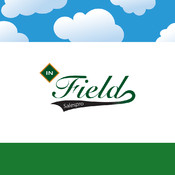 This new tool is answering questions and changing the way we work and connect with customers.
- George Turano, COO of inField Salespro
Fairfield, NJ (PRWEB) May 21, 2013
As the mobile market expands into the 'touch revolution' where smartphones, tablets and other touch optimized devices are fast gaining traction as the new tools of the trade, the just launched inField Salespro app is changing the way sales teams share information and connect with clients.
The inField Salespro app, designed for Salesforce users using iPad 2, 3 or 4 allows sales reps to access key client data anytime, anywhere whether connected to the internet or not. The app allows instant, real time updates to Salesforce records and fast access to data without affecting a user's data plan or connection availability.
Log in while connected to Wi-Fi and data is securely synced to a user's iPad; updated data is then accessible 100% when in offline mode. When changes are made to data offline—adding new records for example—it automatically syncs to Salesforce.org the moment a connection is found.
Compatible with Salesforce.com Enterprise and Unlimited editions, the inField Salespro app supports users with up to 150,000 accounts and features a built-in account filter, a calendar to input tasks and follow-up notes and a comprehensive map view.
Click here to see the sales productivity app in action.
George Turano, COO of inField Salespro says the app allows sales people to be more productive by being able to work in the field longer and call on prospects with information that in the past they would have needed to go back to the office to access.
"This new tool is answering questions and changing the way we work and connect with customers," Turano said. "Not only does it allow reps to respond quickly and be most informed in front of prospects, it lets teams, no matter where they are see when and where sales reps are getting the job done and how they're doing it."
For more information about how inField Salespro apps can change the way your team works, visit http://www.infieldsalespro.com, download from the iTunes app store here or the Salesforce AppExchange.
About Infield Salespro
inField Salespro provides a suite of real-time mobile sales productivity apps, ready to work when you are, without concern of connectivity or your data plan.
Access Salesforce.com offline. The inField Salespro App is designed for the iPad 2, 3 and 4 for Salesforce users with up to 150,000 accounts using any edition for the standard objects and fields—accounts, contacts, assets, opportunities, notes, tasks and events.