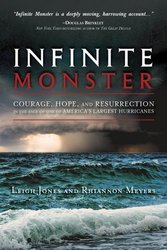 Infinite Monster is a deeply moving, harrowing account of one America's great cities-Galveston-being ravaged by Hurricane Ike. Highly recommended!
Galveston, Texas (Vocus) June 15, 2010
After a relatively calm hurricane season in 2009, the Texas Gulf Coast is bracing for what forecasters say could be one of the most active tropical seasons on record.
The newly released predictions from the National Oceanographic and Atmospheric Administration project a 70 percent probability of up to seven major hurricanes (category 3, 4 or 5 with winds of at least 111 mph).
But Gulf Coast residents know it doesn't take a superstorm to cause a major catastrophe.
Hurricane Ike, only a category 2 on the Saffir-Simpson scale, ravaged Galveston Island, submerging 75 percent of the city, shredding buildings, and turning out rich and poor alike from their homes. Many islanders are still waiting for help.
To this day, not one home has been rebuilt with federal disaster relief money, nor has public housing returned to the island. Thousands of people remain displaced. And the 84-acre University of Texas Medical Branch — the state's largest teaching hospital and home to one of two National Biocontainment Laboratories for the study of infectious diseases — is still recovering.
The threat of another tumultuous storm season on an already devastated coast means it's more important than ever that the public and government be prepared for a major hurricane. Adding more urgency to the questions that linger from Hurricane Ike are these.

How can a government and its citizens respond more effectively to a hurricane?
What are the top priorities to fully recover from Hurricane Ike?
How does Galveston survive its next big storm?
Endorsed by Douglas Brinkley and the Executive Editor of Texas Monthly, a new book was released today, compiled from private interviews of Galvestonians who survived Ike. Their stories expose the destitution of loss, the politics of recovery and the revelry of rebirth.
Award-winning Galveston County Daily News reporters Leigh Jones and Rhiannon Meyers spent a year writing about the storm's devastating aftermath and were part of the Galveston County Daily News team that won the 2009 Star Breaking News award from the Texas Associated Press for their hurricane coverage. In the book, Jones & Meyers depict survivors returning to the island through toxic debris and a seemingly endless bureaucracy. They liken Ike to "a phantom reincarnation of its 1900 ancestor".
No event in Galveston's modern history has forced the city to redefine its identity and future direction like Ike has. The authors pose some hard questions, most of which have yet to be answered, but one thing is certain — Hurricane Ike was like the Infinite Monster that would forever cloud the Gulf Coast's future.
"Infinite Monster is a deeply moving, harrowing account of one America's great cities—Galveston—being ravaged by Hurricane Ike. Highly recommended!''
—Douglas Brinkley, Professor of History at Rice University and author of The Great Deluge: Hurricane Katrina, New Orleans, and the Mississippi Gulf Coast
''Infinite Monster deserves a place alongside Isaac's Storm and A Weekend in September as a tale of a star-crossed city's struggle to endure the ravages of a mammoth hurricane. Leigh Jones' and Rhiannon Meyers' meticulous reporting chronicles the dramatic personal stories that took place on the night Hurricane Ike made landfall and the controversial decisions that had to be made in the storm's aftermath.''
—Paul Burka, Senior Executive Editor, Texas Monthly
Contact:
Stephanie Barko, Literary Publicist
512-291-6188
steffercat(at)austin(dot)rr(dot)com
# # #