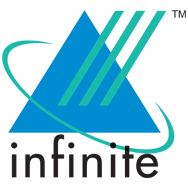 ROCKVILLE, Md. (PRWEB) February 13, 2019
Infinite, an IT services and solutions company, today announced it has been recognized as a market rising star in digital business transformation services by Information Services Group (ISG), a leading global technology research and advisory firm. According to the ISG Provider Lens™ Quadrant Report – Digital Business Transformation, U.S. 2019, Infinite is among the leading providers in Digital Transformation as a Service, Digital Transformation Platforms, and Blockchain as a Service.
"Digital business transformation vendors are helping enterprises improve their competitiveness," said Esteban Herrera, partner and global leader of ISG Research. "A large part of this challenge is not just technological, but also related to transforming established processes and traditional management practices. Vendors can help companies become more flexible and foster collaboration across departments and enterprise boundaries, while delivering benefits to their ever more mobile customers."
The ISG report notes that Infinite's "capabilities and clients served are rapidly increasing. Infinite has developed key platform components around digital transformation, digital journey and experience, application management, infrastructure management and IT operations, delivered as a service or customized client development."
"Infinite is proud to be recognized as a leader in the Digital Transformation space. It validates our approach to where the marketplace is heading and how we are positioned. Our goal is to use Digital Transformation as a path to help our customers become the technology companies they want to be," said Anjana Arora, Infinite's senior vice president of market strategy.
The ISG Provider Lens™ Quadrant Report – Digital Business Transformation, U.S. 2019 evaluates the capabilities of 45 U.S. providers across seven quadrants: Enabling the Customer Journey, Digital Enterprise Operations, Digital Transformational Platforms (PaaS), Digital Transformational Services (XaaS), Digital Product Creation and Customization, Digital Continuous Delivery, and Blockchain as a Service.
The ISG Provider Lens series of reports draws insights on service provider capabilities from focused surveys, briefings, interviews with providers, input from ISG advisors, ISG benchmarking data, and data drawn from the ISG Contracts Knowledgebase™ and ISG Engagement Database™. The series is a complement to the ISG Provider Lens Archetype reports, which offer a first-of-its-kind evaluation of providers from the perspective of specific buyer types.
About Infinite
Infinite provides custom IT-based business process solutions, next-gen mobility solutions, and digital transformation and product engineering services that specialize in the Healthcare, Banking & Finance, Telecommunications & Technology, and Media & Publishing industries. Infinite's solutions build on proprietary industrial frameworks that significantly reduce work effort and cost while providing faster go-to-market speeds and nimble responses to market dynamics – a complete suite of services we call Platformization™. For more information, visit http://www.infinite.com.