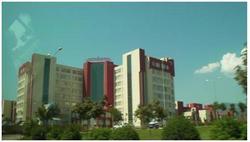 New York, NY (PRWEB) October 8, 2010
INFINITT Healthcare has signed PACS/RIS contract with Adnan Mendres University Hospital located in Aydın, Turkey. Adnan Mendres University Hospital was opened in 1994 and operates 240 inpatient beds and is expected to expand the number to 400 in the near future.
This contract is a major milestone in INFINITT's business expansion in the region since it is the third contract INFINITT has signed in Turkey followed by Erciyes University Hospital (1100 beds, INFINITT PACS) and Dicle University Hospital (1200 beds, INFINITT PACS). Also it is a meaningful contract for INFINITT as Adnan Mendres University Hospital is the first customer in Izmir area and it is also the first hospital to be installed with Turkish INFINITT PACS/RIS. Moreover, INFINITT have won this contract over competing global companies.
About INFINITT
With over a decade of experience, INFINITT has provided affordable, state-of-the-art medical imaging and information capabilities to numerous Radiology, Cardiology, Orthopedics, and Dental healthcare facilities worldwide. Since the early origins of medical imaging and information technology, including Picture Archiving and Communications System (PACS), 3D Visualization, Radiology Information System (RIS), and Clinical Information System (CIS), our primary objective has been to develop the most advanced, cutting edge medical imaging and information solutions. Augmenting that objective is our strict compliance with worldwide industry standards such as DICOM, HL7, IHE, and HIPAA.
INFINITT provides its products and solutions to more than 2,000 medical facilities in 25 countries worldwide and strives to become the World's Best Brand in the Healthcare IT industry by providing the highest levels of service, standards compliance and scalability, addressing not only today's imaging and information needs, but providing for the fully-digital enterprise of the future.
For more information, visit the INFINITT website at http://www.infinitt.com
# # #