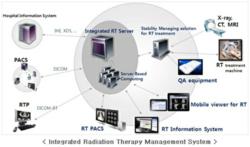 (PRWEB) December 25, 2011
INFINITT Healthcare has launched a new project in collaboration with the Radiation Oncology department of Samsung Medical Center for the development of the world's first integrated radiation therapy management system. Total funding for the project is USD 6.4 million, with the Korean government contributing half & USD 3.2 million & over the next four years.
'Integrated Radiation Therapy Management System' is an integrated management system which archives, manages, and checks various medical images and information in the radiation treatment process. It is essential to implement precise dose in radiation therapy: INFINITT Healthcare and the Radiation Oncology department of Samsung Medical Center plan to develop the world's first system of its kind.
Radiation Therapy (RT) is one of the three main cancer treatments along with medication and surgery, and is growing more prevalent in medically advanced countries. RT is often preferred over surgery and drug therapy because it is effective and non-invasive.
As advanced RT has become more common, however, it has also become more difficult to manage RT data with existing analog methods. An integrated, digital management solution is needed to provide efficient search, display, comparison, and integration capabilities throughout the whole treatment process.
The combination of Samsung Medical Center's radiation oncology experience with INFINITT's expertise in software development is expected to result in the world's leading integrated radiation therapy management system.
Xelis™ Cardiac and Fusion software Receive FDA clearance
Xelis™ Cardiac and Xelis™ Fusion, two separate clinical applications, recently received clearance from the U.S. Food and Drug Administration (FDA). Now, Xelis™ Colon, Cardiac, Fusion and 3D have all been cleared by the FDA and are widely available to the North American market.
Xelis™ products can be used as integrated solutions with INFINITT's web-based PACS or as stand-alone solutions, allowing any third-party PACS user to query, view and analyze studies from any DICOM-compliant database.
Xelis™ Cardiac provides easy and powerful 2D, 3D, and 4D display and analysis tools for evaluation of Coronary CT Angiography (CTA) and Left Ventricle Analysis (LVA). Xelis™ Fusion enables users to do fusion of CT, PET and MR images. The two products have been in use at several institutions across the US and have demonstrated the ability to improve diagnosis and enhance the radiologist's and clinician's productivity.

Xelis™ Cardiac Features
Automatic Cardiac Axis view – Chamber view (HLA, VLA, SA)
Powerful MPR slab review including 4D Cardiac MPR and VR image to visualize cardiac wall motion and contractility
Automatic blood pool segmentation, detection of LV/RV contours and LV/RV Analysis
One click vessel tracking with automatic removal of rib cage and other anatomical structures to improve productivity
Comprehensive measurement tools and soft plaque analysis
Xelis™ Fusion Features
Supports fusion of PET, CT and MR data in any combination of the modalities
Offers both automatic and manual registration methods, quantitative analysis tools and rapid image navigation using only a few mouse clicks
Supports 3D region of interest (ROI) analysis
Provides a variety of presets and layouts for comparing two image sets
Calculates PET Standard Uptake Values (SUV)
Offers multiple standard and user-defined color maps
Stores/sends the fused images in DICOM 3.0 format
Includes integrated, freely-rotating MPR functions
FDA clearance for Cardiac Functional Analysis, Calcium Scoring, CT Brain Angiography Subtraction (BAS) and CT Lung will be completed in near future. Xelis™ CT Perfusion is expected to meet CE (European Community) certification requirements.
Tina Kim
+82-2-2194-1694
INFINITT Healthcare Co., Ltd.
12F Daeryung Post Tower III, Guro 3-dong, Guro-gu, Seoul, 152-746, KOREA
email: kimjh(at)infinitt(dot)com
###