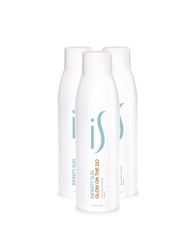 Infinity Sun Glow on the Glow
Beverly Hills, CA (PRWEB) April 23, 2009
Infinity Sun is the Eco-friendly Spray Tanning system and Sunless tanning aerosol on the Britney Spears Circus tour. Britney Spears' elite beauty team put together an elaborate beauty regime for the pop princess to take on tour. Her wardrobe designers DSquared2 created a series of provocative looks. Make-up artist Garret Gervais was delighted when experimenting with Infinity Sun, learning unique ways to contour her body for her high fashion costumes. He called on spray tanning specialist Veronique Munro, founder and CEO of Infinity Sun, to help him get the most out of the spray system.
Gervais explained to Munro while on tour he wanted to keep the dancers tanned without having to worry about transferring of bronzer onto the costumes. He chose to use the Infinity Clear solution to create a beautiful golden brown tan without any transference. He said Britney liked to be very dark immediately and would definitely prefer the bronzer. Munro consulted with Gervais on how to use Infinity Sun's system and to choose the right combination to achieve the results he desired.
The plan was to first spray Britney with the normalize elixir to balance her skin. Next, he would spray on the custom blended tanning elixir to give her a brown with a pink undertone color along with contouring her torso, legs, and arms. When in-between treatments to touch up her tan, Gervais would use the "Infinity Sun Glow on the Glow" aerosol can.
Lastly, right before Spears would step on stage, he planned to spray her with the shimmer spray to help make her skin and costumes pop while performing
"The Shimmer Spray is amazing, it will save me 20 minutes, as I usually have to hand apply a cream to make her skin pop under the lights," said Gervais.
"We are so excited to be a part of Britney's comeback tour," states Veronique Munro, Founder & CEO of Infinity Sun. "We work with many performers helping them look more toned and vibrant on stage and it is a pleasure to witness the results in motion."
Infinity Sun develops state-of-the-art spray tanning technology and tanning and beauty products for consumers, health and beauty related businesses, entrepreneurs and mobile spray tanners. Infinity Sun recently launched "Glow On the Go" at the 2009 OSCARS, an Eco-Friendly Sunless Tanning aerosol, made with 7 essential oils, Vitamin A, E and vanilla aromatherapy. It is the only spray tan in a can that does not use propellants and alcohol, that keeps the skin soft and hydrated, while creating a sumptuous glow that lasts for up to 7 days.
Infinity Sun's Celebrity clientele includes: Brooke Burke, winner of "Dancing With the Stars", Jessica Alba, Giselle Bündchen, Paula Abdul, Adrien Grenier, mandy Moore, David Beckham and many more. Infinity Sun is featured prominently on many hit TV shows, including Millionaire Matchmaker, Entourage, The Style Network's "Style Scenes", E! Entertainment's Academy awards "48 hour make-over", Dr 90210 and many others.
For more information on Infinity Sun, visit http://www.infinitysun.com.
###